Starting a brewery is an exciting adventure that combines your love for beer with running a business.
In this guide, we'll cover the key steps to help you start a brewery. From making great beer to dealing with rules and regulations, setting up equipment, building your brand, and getting customers, we'll explain it all.
So, let's dive in and learn how to begin your journey in the brewing industry!
What is a brewery?
A brewery is a facility that produces beer on a commercial scale. It involves fermenting malted grains, hops, water, and yeast to create beer through mashing, boiling, fermenting, conditioning, and packaging.
Breweries vary in size, from small craft breweries to large industrial ones. Some have attached taprooms or brewpubs for customers to enjoy their beer.
Brewing has a rich history and has seen a resurgence in craft breweries emphasizing unique and artisanal beer production.
Craft beer industry statistics
According to Statista, in the year 2022, there were a total of 9,552 craft breweries in operation across the United States, with 3,418 of them categorized as brewpubs.
In the graph below, you can see the number of operating craft breweries in the United States from 2012 to 2022, categorized by brewery type.
How to start a brewery?
Has starting a microbrew or starting a brewery ever crossed your mind? Whether you're a beer enthusiast keen on brewing beer and turning your hobby into a job, or a newbie entrepreneur wondering how to open a brewery, check the steps below.
Step 1. Select a brewery format
A good starting point is to talk with other brewery owners to get to know the brewery market. For that purpose, you can check the list of the top 50 craft brewing companies published by the Brewers Association.
To define your brewery concept, you'll need to select a name, establish your brand identity, and decide on the type of brewery you intend to run.
Choosing the right brewery format is a critical decision for aspiring brewers. It determines the production scale, target market, and overall business model.
What are the brewery types?
There are several types of breweries, each with its own characteristics and business model. Some common brewery formats include:
Microbrewery: A small-scale brewery that produces beer in limited quantities for local distribution, often with a focus on unique and craft beer styles.
Nano brewery: Even smaller than a microbrewery, nano breweries typically produce very small batches of beer, often on a one-barrel system or smaller. They are often run by a single person or a small team and may have a strong emphasis on experimentation.
Craft brewery: A craft brewery is a small, independent brewery that emphasizes producing unique and high-quality beers, often in limited quantities, focusing on creativity and traditional brewing methods.
Brewpub: A combination of a brewery and a restaurant or pub, where beer is brewed on-site and served alongside food to customers. Brewpubs provide a complete dining and drinking experience.
Regional Brewery: These medium-sized breweries produce larger quantities of beer than microbreweries, often with a regional or national distribution. They may offer a broader range of beer styles.
Contract Brewery: A brewery that doesn't have its facility but contracts with other breweries to produce their beer. This approach can be cost-effective for brewers looking to scale up without investing in brewing equipment.
Production Brewery: Large-scale breweries that produce beer on an industrial level, often with national or international distribution. These breweries are typically associated with well-known beer brands.
Farm Brewery: Breweries located on farms that use ingredients grown on the property, such as barley, hops, or fruits, to create unique and farm-to-table beer experiences.
Step 2. Write a brewery business plan
Once you define your business concept, focus on writing a brewery business plan.
A brewery business plan is your business roadmap, outlining goals, operations, and strategies for success. It's an essential guide to ensure your brewery venture thrives.
If you want to run a successful brewery, start by putting effort into preparing a business plan because it is a document you will use many times.
Step 3. Choose your new brewery location
Choosing the right one is crucial for starting a brewing business.
Here is the list of aspects regarding the location worth considering while opening a brewery.
Market analysis: Study the local market to pinpoint areas with a demand for craft beer. Take into account factors such as the density of the population, income demographics, and the presence of competing breweries.
Accessibility: Ensure your brewery is easily accessible to customers. Look for locations with good visibility, parking, and proximity to main roads or public transportation.
Zoning and regulations: Check local zoning laws and regulations to ensure your brewery can operate legally in your chosen location. Verify that you can obtain the necessary permits.
Target audience: Consider your target audience and their preferences. A location near your target demographic can boost your customer base.
Space requirements: Figure out how much space is required for brewing equipment, storage, a tasting room, and possible future expansion. Confirm that the chosen location can meet these requirements.
Cost considerations: Examine the expenses associated with leasing or purchase, encompassing rent or mortgage payments, utilities, and taxes. Align these costs with your budget.
Infrastructure: Evaluate the building's condition and infrastructure. Verify that it caters to a brewery's specific requirements, including proper plumbing, sufficient electrical capacity, and effective ventilation.
Step 4. Obtain the necessary licenses and permits
To start your own brewery, you need to obtain a liquor license.
What is the cost of a liquor license?
The cost of a liquor license can vary significantly depending on several factors, including
the location of your brewery,
the type of license you're applying for,
local regulations.
State and local authorities typically determine liquor license fees. According to ContractsCounsel, the average cost of a liquor license is $3,000.
Obtaining a liquor license may take as long as six months for approval. If your application is successful, you'll need to pay a licensing fee, which can vary depending on your state, ranging from approximately $300 to as high as $450,000.
Other licenses you will need to obtain include:
Federal brewing permit – you can apply for it on TTBGov
Health/Food Service License – to apply for this license, visit your state and/or county health department, complete the necessary application forms, and submit them for evaluation. In certain states, both state and county permits may be required for your brewery's operation.
Retail License – it's necessary if you plan to sell merchandise. To apply for it, visit the U.S. Small Business Administration.
Each state has unique tax and employer requirements when starting a brewing company.
Apart from the required licenses and permits, you must establish a new business legal structure, a framework that dictates the management and ownership of your business.
The most common business entity structures include:
Sole Proprietorship
Partnership
Limited Liability Company (LLC)
Corporation
According to Reinhart, an LLC is a commonly chosen structure for running a brewery. This preference arises from the substantial flexibility it provides in corporate governance and capital organization.
While making a choice, remember that the selection of a business structure will impact the way you handle tax filing and payments.
Don't forget about applying for an EIN (Employer Identification Number), enabling you to submit income and payroll tax returns. EIN is obligatory if you intend to hire employees in the future. You can apply for it through the Internal Revenue Service (IRS).
Step 5. Secure brewery funding
To start a brew pub, you will also need to secure funding. How to do that? Here are some options for starting a beer company:
Applying for small business loans
Opening a credit line
Looking for private investors
Crowdfunding
You can also read our article on how to open a restaurant with no money.
How much does it cost to open a brewery?
According to SharpSheets, it costs from $250,000 to $2 million to open a brewery. The average cost depends on the location and brewery concept, and starting a brewery typically involves an average cost ranging from $500,000 to $1.5 million.
Here are some costs to consider when opening a brewery:
Ingredients: The cost of malt, hops, yeast, and other beer ingredients.
Utilities: Expenses for water, electricity, gas, and other utilities required for brewing and maintaining the facility.
Brewery equipment: It includes kegs, kettles, bottling or canning lines, boilers, fermentation tanks, labeling machines, storage tanks, and other components.
Rent or mortgage: If you don't own the property, you must budget for monthly rent or mortgage payments.
Renovations needed for your new space: it can encompass flooring, plumbing, interior decor, furniture, and other elements.
Maintenance and repairs: Regular and occasional repairs to brewing equipment, facilities, and infrastructure.
Packaging: Expenses related to bottles, cans, labels, and packaging materials for your beer.
Distribution costs: Expenses tied to packaging, transportation, and distribution to retailers or wholesalers if you distribute your beer.
Remember to keep your personal and brewery expenses separate.
Step 6. Buy brewing equipment
According to Micet Craft, the most significant expense when starting a brewery is typically the equipment.
Compact brewing setups, like a 1-barrel system that can craft 320 barrels of 12-ounce beer, frequently come with a price of $100,000 or less, whether sourced as new or used equipment.
On the other hand, for a more substantial 30-barrel brewing system designed to produce a staggering 9,600 12-ounce bottles, you should be prepared for an investment that could climb to as high as $1 million.
Essential brewery equipment required to start the brewing process includes
Fermentation tanks, boiling equipment, bottling and canning lines, and brewing kettles
Testing tools like strips, pots, meters, and portion scales
Bottling and packaging equipment
Refrigeration equipment
Devices and tools for bulk storage, dispensing, and serving
Safety equipment to maintain a secure brewing environment
Step 7. Develop a marketing plan
To enter the craft beer scene, you must create a restaurant marketing plan.
You need to think of your target customers and decide on the marketing strategies you will use to attract them. Analyze your potential customers' preferences. Ask yourself where they spend their time and what you can do to get their attention.
Step 8. Create your brewery menu
Creating a brewery menu means choosing different types of beers for customers to enjoy and deciding if you want to offer a small bites menu or a full menu with meals.
It's important to have a mix of traditional and new beers, along with food options that go well with the beer.
Here is a list of food options that pair well with beer:
Pretzels with mustard or cheese dip
Spicy or savory chicken wings
French fries
Cheese platter
Nachos
Tacos
Chips
Popcorn
Sausages
Burgers
Pizza
Remember that the best food and beer pairings can vary depending on the specific beers you offer and your customer's preferences, so it's a good idea to experiment and tailor your menu accordingly.
Step 9. Look for your brewery inventory supplier
Having decided on your brewery menu, it's time to find your brewery inventory supplier. Spend some time reading reviews about different suppliers and talking with other brewery owners about their experience.
Brewing great beer is a key element influencing the success of your brewery, so do not make hasty decisions to choose the right supplier of ingredients necessary to offer beer.
Consider how much beer you plan to brew per month and carefully analyze the offers of several suppliers before choosing the one you will cooperate with.
Step 10. Promote your brewery
Before you open a brew pub or a brewery, you need to promote it. Use different advertising methods, for example:
Check out our article on restaurant marketing strategies and ideas for inspiration.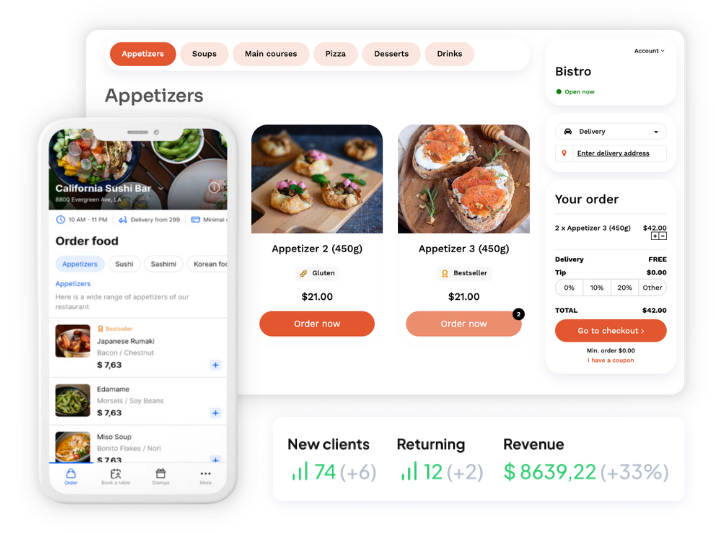 Start selling food online
Set up commission-free ordering for your restaurant's website in minutes. Boost revenue while saving on third-party fees
Step 11. Hire and train your staff
When hiring and training brewery staff, it's essential to assemble two distinct groups: one responsible for producing the beer, led by a skilled head brewer who oversees recipe creation and brewing operations, and another group focused on serving beer and food to customers.
As a brewery owner, you need to remember about both groups. The production team, including brewers and assistants, should have a strong grasp of brewing techniques, safety protocols, and quality control.
On the service side, bartenders and servers should be well-trained in customer service, beer knowledge, and responsible alcohol service to ensure a positive and safe customer experience at the brewery.
Step 12. Host a soft opening
The business plan has been prepared, the equipment has been purchased, the employees are trained, and you have started promoting your brewery among potential customers.
It's high time to open the doors to them 🙂
Start with hosting a soft opening. This is an excellent way to test the brewery's daily operational activities in safe conditions.
Invite friends and families of your co-workers and talk to them. Ask them if they have any comments or if they would change anything. Listen to them carefully and implement their suggestions before you host a grand opening for all your customers.
Step 13. Create a brewery website
Don't forget about creating a brewery website. For that purpose, you can use an intuitive website builder. You choose one of the available restaurant website templates, add your logo and content, choose colors, and add your brewery menu.
Check out these best brewery websites for inspiration.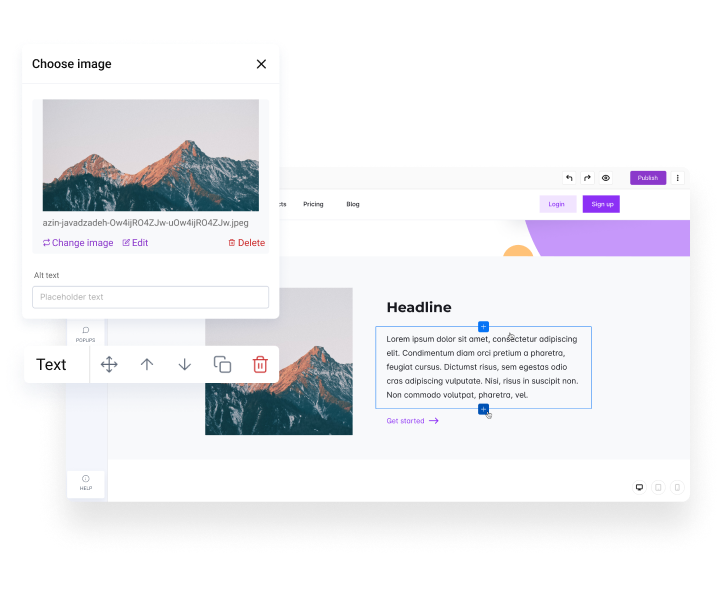 Restaurant Website Builder
Create FREE restaurant website in minutes
Choose from 50+ restaurant website templates to craft a site that turns visitors into customers
Step 14. Start selling online
After starting a micro brewery, consider enabling online ordering from your website as an additional sales channel. For that purpose, you can use an online ordering system for restaurants.
With an easy setup, you can quickly launch online ordering on your website in a few minutes.
Providing online ordering enhances customer convenience and expands your reach, potentially driving increased sales and growth for your brewery.
To find out more, check out our guide on how to set up an online ordering system.
You can also check a comparison of the best restaurant online ordering systems.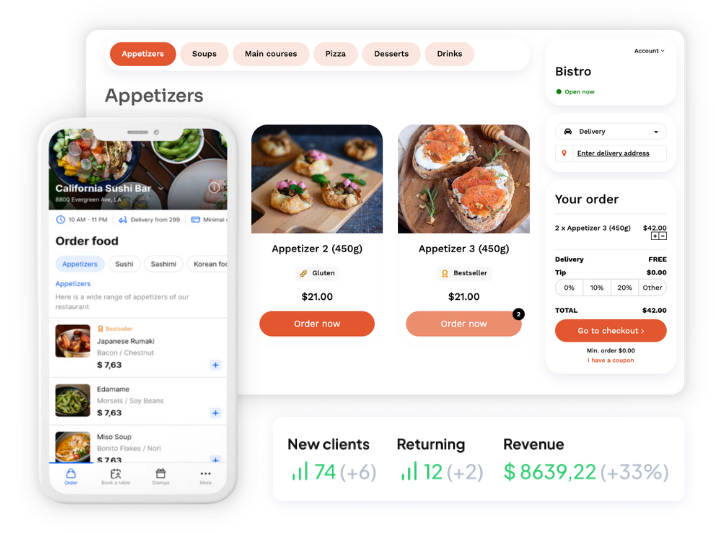 Start selling food online
Set up commission-free ordering for your restaurant's website in minutes. Boost revenue while saving on third-party fees
Starting a brewery checklist
Decide on your brewery idea
Prepare a business plan before starting a microbrewery
Pick the right spot for your brewery
Get all the necessary permits
Find the money to start your brewery
Get the brewery equipment you need
Come up with a marketing strategy to attract customers
Create a menu for your brewery
Find reliable suppliers for your inventory
Promote your brewery to the world
Hire and train your staff
Organize a soft opening
Build a website for your brewery
Start selling your brews online
Key Takeaways
Carefully choose the brewery that aligns with your vision and resources, whether it's a microbrewery, brewpub, or another format.
Develop a detailed brewery business plan outlining your goals, operations, and financial projections.
Select a suitable brewery location and navigate the legal landscape by obtaining the licenses and permits to operate your brewery legally.
Balance your budget by considering expenses like rent, utilities, and taxes, and secure funding to cover the costs of your startup brewery.
Invest in high-quality equipment to produce top-notch beer and a successful brewery operation.
Create a brewery website and start selling online directly from it
Frequently Asked Questions (FAQ)