According to ReviewTrackers.com, 77% of customers trust customer reviews more than the opinions of professional critics (just 23%). This means that a good reputation is crucial for the success of your restaurant's online marketing strategy.
Moreover, the opinions of your customers may come in handy. When it comes to the development of your business and crisis prevention. For example, as many as 3 in 4 customers will not have dinner at a place with negative comments about its cleanliness. This knowledge should be enough to keep you motivated to always maintain tidiness in your restaurant.
Customer feedback is without a shadow of a doubt one of the most valuable parts of your restaurant online marketing. Have you ever wondered where the best places are to find it? We provide you with some useful examples.
Facebook
There are 2.27 billion monthly active users on Facebook (third quarter of 2018, according to statista.com). It makes this Social Network a great place to share reviews and ratings about our favorite eateries.
Every single day, users take their time to check the reputation of restaurants on Facebook or sum up their visit somewhere with a comment. Make sure to regularly read the feedback about your food business.
Responding to negative as well as positive comments will show that you actually care about every guest of your restaurant.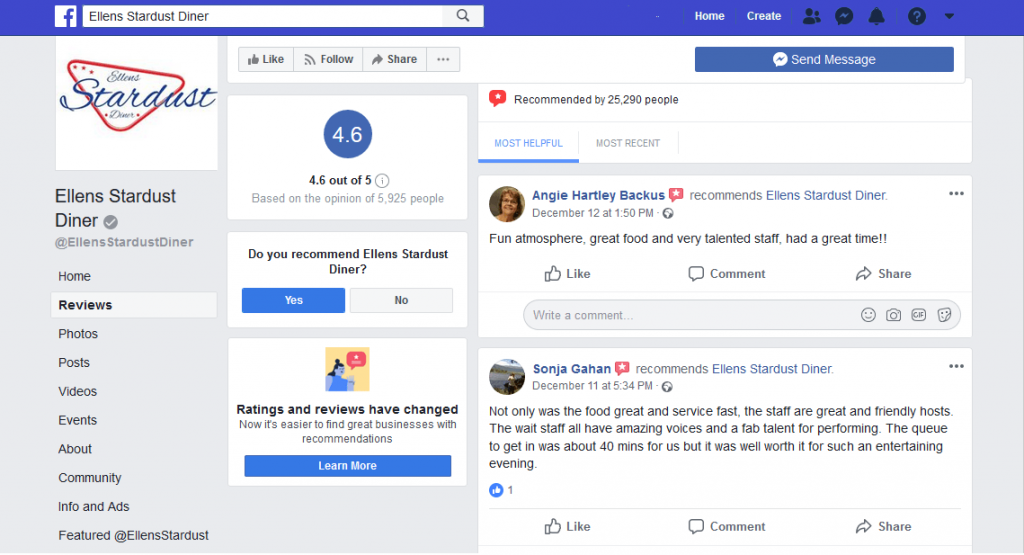 TripAdvisor reviews
TripAdvisor is very popular, especially among travelers all over the world. Voyagers share plenty of feedback there – for instance, about interesting attractions in different cities, nice hotels, and great restaurants.
First of all, check whether your food establishment is available on TripAdvisor with all the important information (such as opening hours, location or available cuisines). Then, do your best to visit the page on a regular basis and carefully read what travelers think about your eatery. It should be an important part of your restaurant online marketing plan.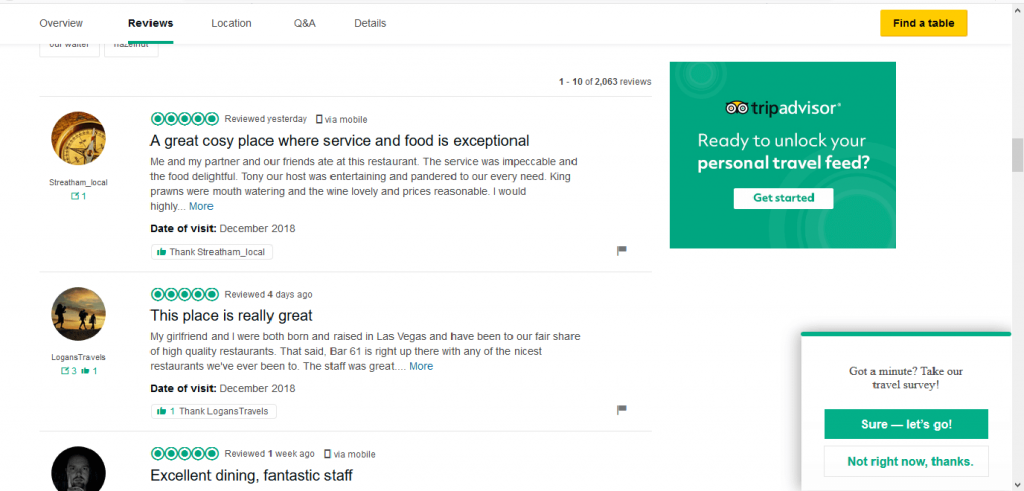 Opinions on online food ordering portals
If your restaurant cooperates with a food ordering portal (or portals), your customers can also share comments on their websites. Therefore, don't forget to check the feedback on such portals as well. Many of them are quite famous and have plenty of users, for example, www.delivery.com, www.grubhub.com or www.goldbely.com.
However, keep in mind that most of the time using an online food ordering system is. In fact, more beneficial for your business than choosing food ordering portals.
You can read more about this in the article Alternatives to online ordering platform for restaurants.
When you go for a portal alternative such as UpMenu system, the opinions of customers are sent directly to your administrative panel. Thanks to this, only you see them and are, therefore, able to respond before one possibly negative comment spreads across social media.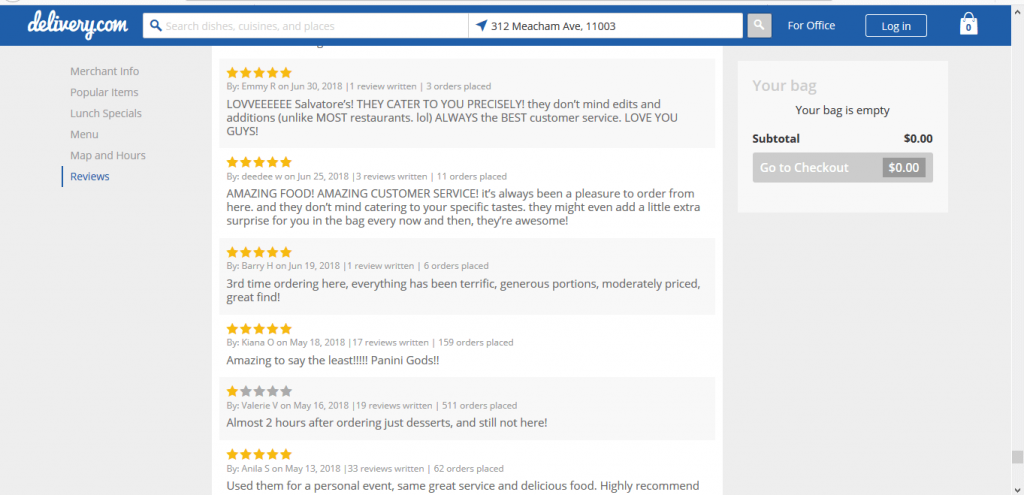 Feedback on your restaurant's website
It may seem quite obvious but remember to also check and react to opinions of customers on your own restaurant page. Make an effort to connect with those customers especially well because this page is something which directly represents you.
You may consider including a few appealing testimonials on your website. However, if you do not want to have comments there, think about sending the customers, for instance, to your Facebook profile.
The UpMenu system allows you to collect customer feedback automatically and you will only see it.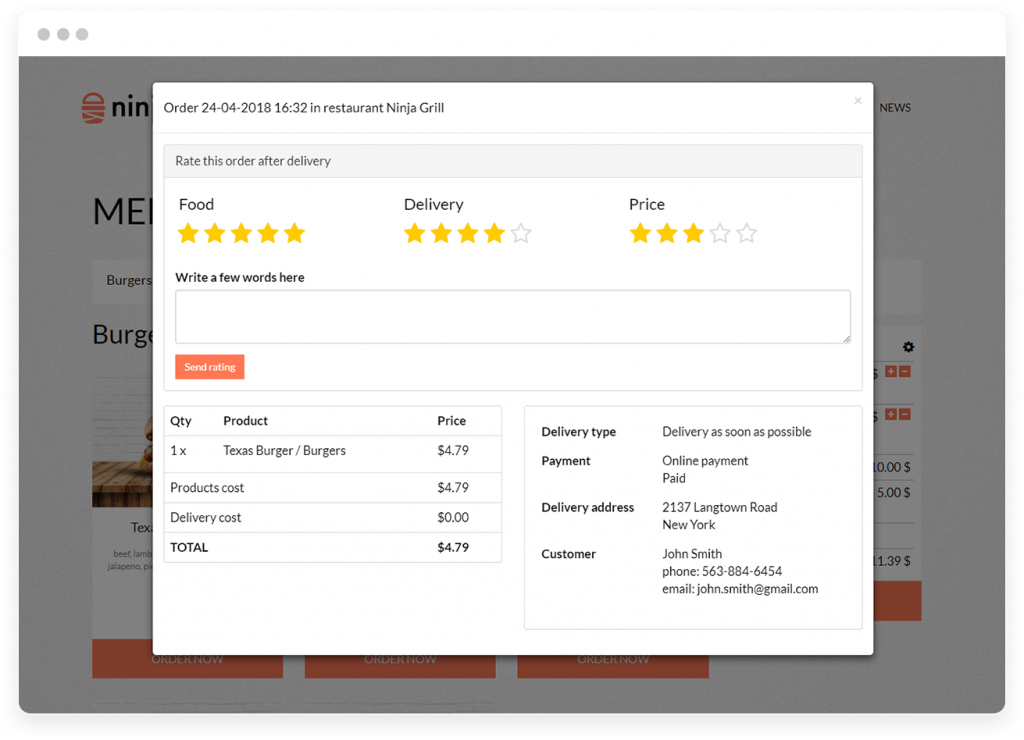 Comments at the restaurant/by delivery
Restaurant online marketing definitely plays an important role but the waiters should always politely ask every customer about their thoughts at the restaurant as well. It is a good opportunity to have a live conversation and immediately react to every possible complaint or request.
Make sure that people who deliver meals from your place of business are respectful and listen to customers too. Try to gather feedback from them at least from time to time.
Summary
According to ReviewTrackers.com, 1 in 3 customers would never eat in a restaurant with less than 4 stars on an online review. Loosing 33% of your guests would not be nice. Always remember to include feedback checking in your restaurant marketing plan.