Imagine a cozy corner café where the aroma of freshly brewed coffee fills the air, laughter, and conversation flow, and a simple cup of coffee becomes an experience to savor. Cafés are more than places to enjoy a beverage; they are sanctuaries of comfort and creativity.
If you're venturing into the world of café ownership, selecting the right cafe name is your first step in creating a unique identity for your establishment. Your café's name isn't just a label; it reflects its character, values, and the ambiance you want to provide.
In this blog post, we'll guide you through choosing the perfect name for your café and offer an extensive list of 100+ cute and creative coffee shop name ideas. Let's get started!
How to Choose the Right Cafe Name for Your Business?
We created this step-by-step guide on how to generate creative coffee shop names and how to choose your cafe business name.
Step 1. Define Your Cafe's Identity
Define your coffee shop's identity, concept, and target audience. Consider the atmosphere, menu offerings, and overall vibe you want to create.
Knowing your cafe's personality will guide your choice of cafe names.
Step 2. Brainstorm Cafe Name Ideas
Begin brainstorming coffee shop name ideas based on your cafe's identity and concept. Generate a list of words, phrases, and themes that resonate with your vision. Aim for a mix of literal and creative coffee shop names.
Think about what makes your cafe unique and how you stand out from the competition. Your cafe name should reflect your unique selling points, whether exceptional coffee, a cozy atmosphere, or specialty offerings.
Moreover, while thinking of a name for a coffee bar, avoid overly complex or lengthy names that may be confusing or difficult to recall. Simplicity often works best.
If your cafe has a specific theme or ambiance, ensure that the name aligns with it. For example, consider incorporating words like "nook" or "cozy" into the name if you have a cozy atmosphere. "Coffee Nook" could be a good coffee shop name idea.
While brainstorming good coffee shop names, think about the overall atmosphere of your coffee club. Think about the emotional response you want your cafe name to evoke. Does it create a sense of warmth, comfort, or excitement?
An emotionally appealing name can attract coffee lovers to your cafe.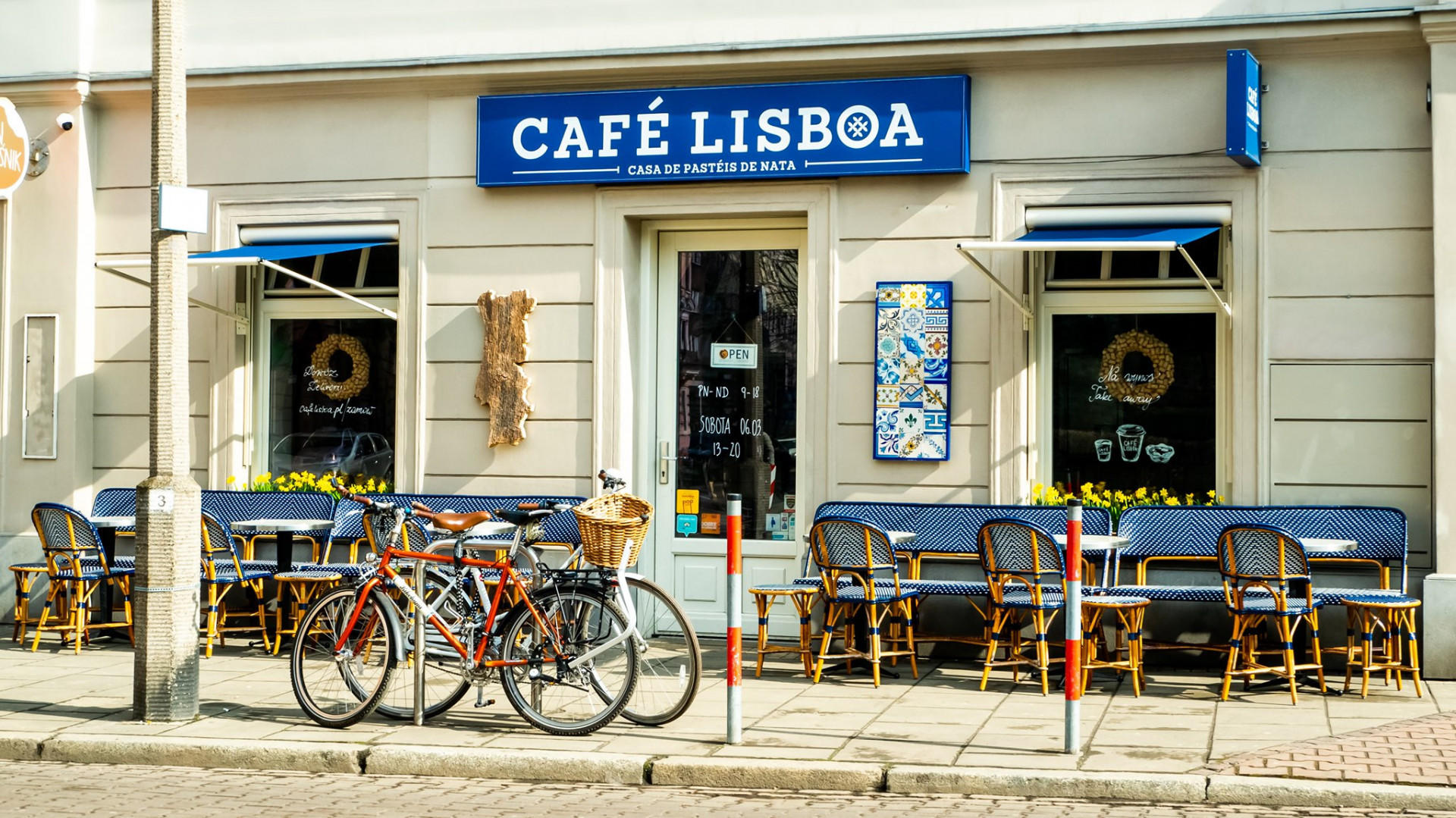 If you experience problems brainstorming completely unique coffee shop name ideas, you can use a cafe name generator like Restaurant Name Generator.
Step 3. Check a Cafe Name Availability
Once you've narrowed your list to a few potential names, conducting thorough research is essential to ensure the cafe name is not already taken.
You can check if the name doesn't exist in the following places:
Google search – Start by initiating a Google search for each of your prospective cafe names. This step will assist you in determining whether any current businesses, particularly cafes or restaurants, have already adopted identical or closely resembling names.
The Yellow Pages – Look at local directories like the Yellow Pages to ensure there aren't any businesses in your area with the same or similar cafe names. This helps ensure your name stands out locally.
Google My Business – Review Google My Business listings to check if any nearby cafes or businesses have already registered the names you're considering. This is important to improve your cafe's visibility in local searches.
The Better Business Bureau (BBB) – you can also search the directory of Better Business Bureau to find out if any registered businesses might have the same or similar name.
The United States Patent and Trademark Office's Trademark database – If you're in the United States, use the trademark database search of USPTO to confirm that another entity does not already trademark your chosen name. This step helps prevent potential legal complications down the line.
Before finalizing your choice of cafe names, check the availability of the domain name for your cafe's website and social media handles since you'll want a consistent online presence for your coffee shop.
While creating your cafe website, you can use a free restaurant website builder to help you build your coffee shop website in a few simple steps. You just choose a website template, add your content, choose colors, and add your coffee shop menu.
To get inspired, you can look at existing cafe & coffee shop websites designs.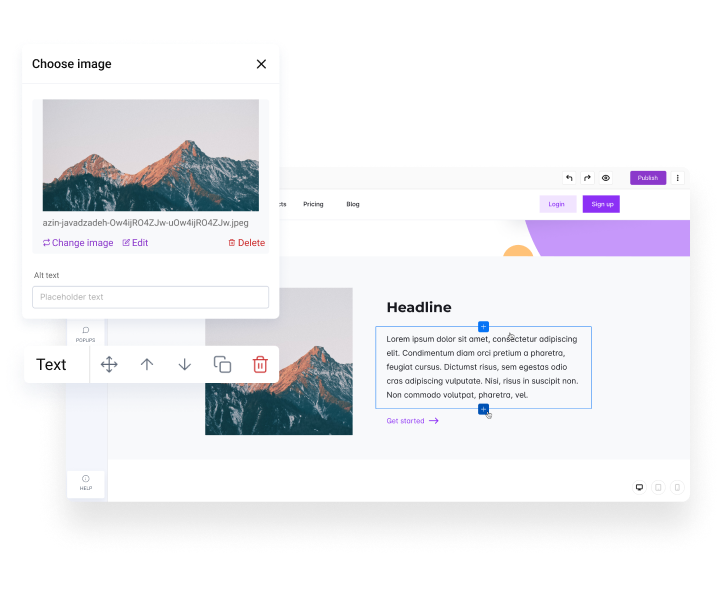 Restaurant Website Builder
Create FREE restaurant website in minutes
Choose from 50+ restaurant website templates to craft a site that turns visitors into customers
Don't forget to give your customers the option to order online from your coffee shop. For that purpose, you can use an online ordering system for restaurants.
In UpMenu, you can build a coffee shop website with an online ordering feature already included. You just configure your restaurant website, add your coffee shop menu, and enable online ordering for customers directly from your website.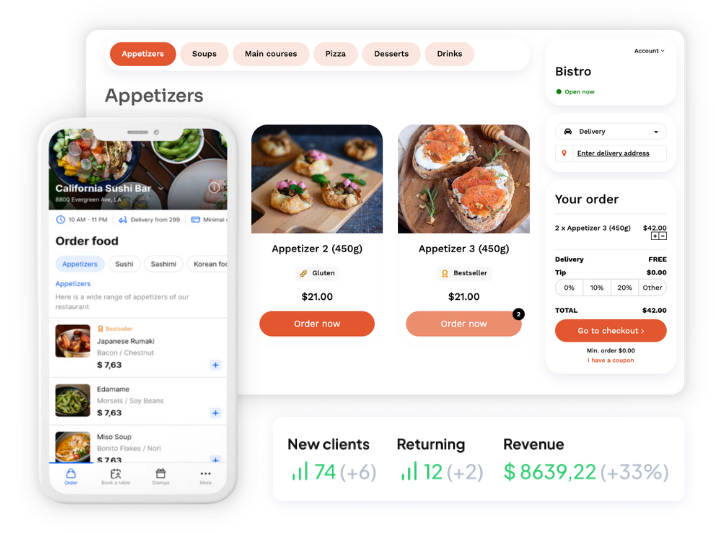 Start selling food online
Set up commission-free ordering for your restaurant's website in minutes. Boost revenue while saving on third-party fees
While discussing your online presence, we cannot omit having a restaurant's mobile app for customers. It enhances the restaurant's online presence by providing a dedicated platform for customers to interact with the brand, view the menu, and place orders, leading to increased visibility and customer engagement.
Second, it streamlines the ordering process, making it more convenient for customers to place orders, which can result in higher order volumes and revenue.
Lastly, a restaurant mobile app allows for personalized marketing efforts, enabling targeted promotions and loyalty programs that can foster customer loyalty and repeat business.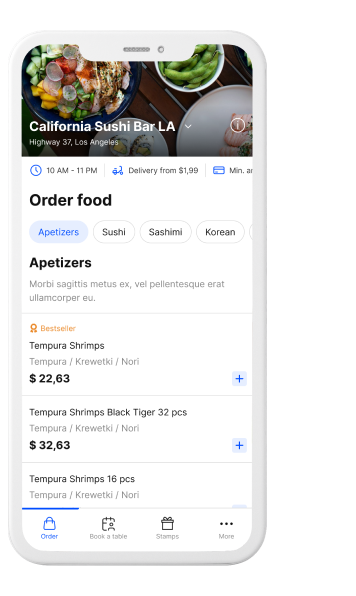 Create a mobile app for your restaurant
Boost customer loyalty with native iOS and Android ordering apps that put your restaurant right in your customer's pocket
Step 4. Test it Out
Testing out a new coffee shop name is critical in ensuring its success. One effective approach is to share your cafe name ideas with a small group of potential customers, friends, or family members.
Encourage them to provide honest feedback about the names, focusing on clarity, appeal, and alignment with your cafe's concept. Ask them what they think about the cafe name ideas.
Is the name clear and easy to understand?
Does it sound appealing?
Does it match the cafe you want to create, like a cool cafe, coffee nook, or a great coffee spot?
Their feedback can be invaluable in helping you gauge the initial reaction to the names and whether they resonate with your target audience. It also allows you to identify potential issues, such as names that are difficult to pronounce or don't convey the desired atmosphere.
By getting input from others, you can make your cafe name better and make sure it really represents what your coffee shop is all about and is attractive to the people you want to come in.
Step 5. Make Your Final Selection
After carefully thinking it over and getting feedback, choose the cafe name that fits your coffee shop's identity, connects with your desired customers, and reflects what makes your place special.
Once you've chosen a coffee shop name, officially register your cafe name as a business name, domain name, and on social media sites. This safeguards your brand identity and keeps everything consistent online.
Selecting the perfect cafe name is crucial in building your coffee shop's brand. It helps attract coffee lovers who will be drawn to your inviting atmosphere, quality coffee, and distinctive cafe offerings.
This decision can also set you apart from other local businesses in the coffee shop industry, making it a vital step in defining your identity among coffee shops and establishing your presence.
100+ Cute Cafe Names Ideas
If you're just looking for inspiration, you will find some cute and cool cafe name ideas below.
Traditional Coffee House
These coffee shops specialize in serving traditional coffee options such as drip coffee, espresso, and cappuccinos, all within a welcoming and laid-back environment. They typically include a selection of pastries and light snacks to provide a full coffeehouse experience.
Examples of cafe names in this category include:
The Classic Brew Cafe
Java Jive House
Mug & Muffin Coffee House
Caffeine Central
Daily Grind Cafe
The Coffee Hearth
Brew & Biscuit Cafe
Classic Cuppa Cafe
Sip & Savor House
The Corner Cafe Chronicles
Warm & Toasty Coffee House
Bean Perfection Cafe
The Quaint Cuppa
Aroma Haven Coffee House
The Roasted Retreat
Comfort Sip & Savor Cafe
Homestyle Brews
Bean Blossom House
Espresso Dreamscape
The Coffee Catalyst Cafe
The Cozy Nook Cafe
Coffee Cottage Haven
Perk & Relax Cafe
Sip & Comfort Corner
The Coffee Cove House
Artisanal Espresso Bar
Artisanal espresso bars excel in creating top-tier espresso-based beverages. They prioritize premium coffee beans and take great pride in mastering latte art. These establishments are designed for coffee enthusiasts seeking a more sophisticated and elevated coffee experience.
Examples of cafe names in this category include:
Espresso Elegance
The Latte Artisan
Bean Brilliance Espresso
Artful Brew Haven
Pure Espresso Mastery
Crafted Caffeine Corner
Latte Luxe Lounge
Espresso Enchantment
Velvet Brew Studio
Artisan's Roast
Crema Perfection Espresso
Mocha Masterpiece Cafe
The Espresso Aesthete
Barista's Canvas
Espresso Palette
Aromatic Artistry Cafe
CremaCraft Espresso
Bean Blossom Artisanal
Espresso Expressions
The Brewsmith
Artisanal Espresso Euphoria
Caffeine Canvas Creations
Espresso Alchemy
Latte Artistry Studio
Crafted Coffee Co.
Cute and Cozy Cafe
These coffee shops prioritize crafting a delightful and inviting atmosphere. They frequently showcase adorable decor, cozy seating arrangements, and a variety of specialty coffees and freshly baked treats. This setting is perfect for those seeking a leisurely and enjoyable coffee experience.
Examples of coffee shop names in this category include:
The Snug Bean Cafe
Cozy Corner Brews
Sweet Serenity Cafe
Cuddle Cup Cafe
Whimsy Cafe Nook
Love & Latte Lounge
The Comfy Sipper
Honeycomb Haven Cafe
Quaint Cupcake Cafe
Cuddle & Coffee Spot
Warm Embrace Espresso
The Cozy Whisk Cafe
Hug in a Mug Cafe
Tea & Tranquility
The Charming Brew Hut
Cozy Cinnamon Sips
Sugarplum Sweets Cafe
The Hideaway Roastery
Tucked-In Brews
Cozy Hearthstone Cafe
Biscotti & Blankets Cafe
Cloud Nine Coffee Nook
The Cuddly Kettle
Velvet Brew Bistro
Hygge Hideout Cafe
Micro Roastery and Coffee Lab
Micro roastery cafes roast their coffee beans right at the cafe premises and provide an extensive selection of single-origin coffee varieties. Some of these cafes may even feature a coffee laboratory where patrons can discover the art of coffee brewing techniques and engage in tasting sessions.
Cafe name ideas in this category include:
Bean Lab Roastery
Roast & Revel Micro Roastery
Crafted Bean Emporium
The Roasting Studio
Single-Origin Brew Hub
Micro Roast Magic
Coffee Alchemy Lab
Roast Master's Workshop
Brewcrafters Roastery
BeanSmith Provisions
Artisanal Roast Co.
The Bean Roasting Den
Espresso Artistry Lab
Roast & Sip Haven
Beanology Roastery
Brew Perfectionists
Coffee Chemistry Corner
Small-Batch Roasters
Roastery Retreat
The Daily Roast Workshop
Craft Roastery Collective
Beans & Beyond Studio
Espresso Excellence Lab
Roastcrafters Hideout
The Coffee Roasting Oasis
Urban Espresso Lounge
Urban espresso lounges are often located in bustling city centers and offer a modern and trendy coffee experience. They have an extensive menu of espresso-based drinks, often with unique flavor combinations, and provide customers with a vibrant contemporary atmosphere.
Coffee shop name ideas in this category include:
City Sips Espresso Lounge
Urban Grind Haven
Espresso Buzz Hub
Coffee Lab Cup
The Metro Espresso Den
Bean Street Urban Cafe
Skylines & Lattes Lounge
Java Junction Urban Espresso
Cityscape Brew Nook
Espresso Urban Oasis
Metro Blend Central
The Urban Espresso Bar
Sidewalk Sip & Savor
City Elixir Lounge
Espresso Skyline Cafe
Streetwise Brew Co.
Metro Magic Espresso
Urban Bean Boulevard
Inner City Sips Lounge
Espresso Highrise Haven
Urban Grindstone Cafe
Paved Perks Espresso Lounge
The Espresso Urban Grid
Metro Roastcrafters
Uptown Espresso Urban Hub
Creative cafe names
Creative cafe names are like special and imaginative words that cafes use. They try to be unique and clever by playing with words or using fun ideas. These names want people to remember the restaurant and make them curious to visit.
Coffee shop creative names could be:
Brews & Brushes Cafe
The Whimsical Mug
Caffeine Canvas Co.
Bean Blossom Bistro
Cup of Dreams Cafe
The Enchanted Espresso
Artful Aromas Cafe
Canvas & Coffee Creations
The Brewed Palette
Java Break Cafe
Puzzling Perks Coffee
The Mosaic Mug
A Cup of Curiosity
Espresso Artistry Cafe
The Quirky Cuppa
Caffeine Creations Co.
Brewed Imagination Cafe
Whimsy & Whisks Cafe
Sip & Strokes Studio
The Dreamy Brew Haven
Mystic Mug Cafe
Creative Sips Corner
The Easel & Espresso
Brewed Wonders Cafe
Big Bean City Coffee
Catchy cafe names
Catchy cafe names are really interesting and easy to remember. They use clever and fun words or ideas to get your attention. These names make you want to visit the cafe and make you remember it better.
Coffee shop name ideas in this category include:
Perky Beans Cafe
Steamy Serendipity Coffee
Sip 'n' Swing Cafe
The Bean Boogie Bistro
Brewed Brilliance Cafe
Cappuccino Carousel
Frothy Affair Cafe
The Jazzy Java Spot
Latte Lullaby Lounge
The Espresso Rhythm
Mochaccino Melodies
Java Jive Junction
Caffeine Cadence Cafe
The Brew Groove
Sippin' Symphony Cafe
The Aromatic Beat
Cuppa Cadence Cafe
Bistro Beats Espresso
The Brew Boogie Co.
Steamin' Jazz Cafe
Caffeine Chorus Corner
The Espresso Encore
Mellow Mocha Serenade
Rhythmic Roast Cafe
Java Harmony Hub
Key Takeaways
Cute cafe names often incorporate creativity and playfulness. Consider unique and memorable names that reflect your cafe's personality.
Start by defining your cafe's identity and target audience. The name should match your cozy, quaint, trendy, and urban concept.
Choose a name that's easy to remember and pronounce. A simple, catchy name is more likely to stick with your customers.
Before finalizing a name, check domain availability and social media handles to ensure a consistent online presence.
Your cafe name should convey what makes your establishment special, whether it's your exceptional coffee, cozy atmosphere, or signature treats.
Consult with legal professionals to ensure your chosen name complies with trademark laws to avoid future legal issues.
Frequently Asked Questions (FAQ)