Selecting the perfect catering business name is critical in establishing a strong presence in the catering industry. A well-crafted name can distinguish your catering company and its services, leaving a lasting impression on clients and customers. Whether starting a new catering co or rebranding an existing one, finding the right catering business name is a strategic decision to set you on the path to success.
In this blog post, we'll guide you through brainstorming and selecting a memorable catering business name. We'll present over 100 catering company name ideas to spark your creativity. Your catering company name is not just a label; it's a vital element that can help you connect with your target audience and carve out a niche in the competitive catering services market.
How to Choose the Right Catering Name?
We created this step-by-step guide on how to generate catering company name ideas names and how to choose your catering service name.
Step 1. Define Your Catering's Identity
Defining your catering business's identity involves several key considerations. To choose the name for your catering co, ask yourself the following questions:
What kind of catering will you specialize in? Will it be corporate events, weddings, specific cuisines, or dietary preferences?
What kind of catering service food are you planning to offer?
Who is your target market? Are you running wedding caterers, targeting companies, or individuals? Maybe you plan to target specific demographics only?
What sets you apart from competitors? Is it your local sourcing commitment, exceptional customer service, private chef service, or innovative menu concepts?
What values are integral to your business?
What is your passion within the culinary arts, and where does your expertise lie? How will this passion be reflected in your menu catering services?
How will you visually present your brand?
What colors, logos, and design elements will convey your identity effectively?
What tone will your marketing materials and interactions with clients convey? Will it be a formal, friendly, informative, or innovative way of showing your tasteful catering service identity?
By addressing these questions and considering these factors, you can craft a catering identity that stands out, resonates with your target audience, and helps you build a strong and memorable brand presence in the catering industry.
Step 2. Brainstorm Catering Business Names Ideas
Begin brainstorming catering co ideas for a name based on your menu catering services concept. Create a compilation of terms and expressions that align with your vision. Strive for a blend of literal and catchy catering names.
Consider what makes your catering co special and how you stand out from other caterers. Think about the kind of food you excel at, what makes your catering service special, and the ambiance you aim to establish.
Are you famous for gourmet dishes, cozy comfort food, or a particular theme? Your catering service name should show what makes you unique.
Also, when picking a name for your catering services company, avoid using complicated or very long names that might confuse people or be hard to remember. Simple names usually work better.
Have fun using clever wordplay and funny words related to food, cooking, and being friendly. These can make your name easy to remember and enjoyable. For example, "TasteBuds Catering" is a name that hints at making food that tastes good.
If your catering service specializes in events like weddings, corporate gatherings, or BBQs, ensure that your name reflects that specialization.
For instance, a name like "BBQ Bliss Catering" unmistakably highlights your expertise in barbecue catering. Another example could be choosing a name like "French Kiss Catering" to evoke a sense of elegance, romance, and culinary sophistication.
If your catering business serves a particular region or city, think about including that location in your name. Doing so can be an effective way to draw in local customers who are searching for catering services in their area.
If you're having trouble coming up with entirely original catering company name ideas, you can use a catering company name ideas generator like Restaurant Name Generator.
Step 3. Check a Catering Name Availability
Once you've narrowed your list to a few potential names, conducting thorough research is essential to ensure other service caterers do not already take the catering business name.
You can verify the availability of your chosen name by checking various sources:
Conduct a Google Search: Start by performing a Google search for each of your potential catering company names. This initial step helps identify if any existing business uses identical or closely resembling names.
Check local directories: Examine local directories like the Yellow Pages to ensure no businesses in your area with the same or similar restaurant names. This ensures that your name remains distinct within the local market.
Review Google My Business listings: Look at Google My Business listings to see if any nearby businesses have already registered the names you're considering. This is crucial for enhancing your catering service company's visibility in local search results.
Consult the Better Business Bureau (BBB) Directory: You can also search the Better Business Bureau directory to determine if any registered businesses share the same or similar name.
Check the United States Patent and Trademark Office's Trademark database: If you are operating in the United States, use the USPTO trademark database search to confirm that no other entity has already trademarked your chosen name. This step is vital to prevent potential legal complications in the future.
Securing a matching domain name to establish your online presence is crucial in the Internet era. Ensure the desired domain is accessible and not already taken for your chosen name.
When building your catering website, consider utilizing a free restaurant website builder to simplify the process. With this tool, you can effortlessly create your catering company website in a few straightforward steps.
Begin by selecting a website template, inserting your content, picking colors, and showcasing your coffee shop menu.
For inspiration, you can examine existing catering websites & designs.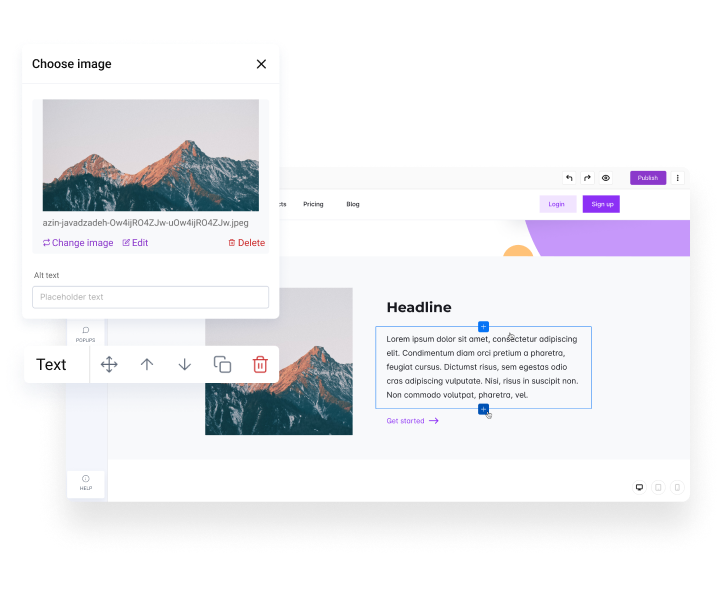 Restaurant Website Builder
Create FREE restaurant website in minutes
Choose from 50+ restaurant website templates to craft a site that turns visitors into customers
Also, remember to let your customers order online from your catering co. For that purpose, you can use an online ordering system for restaurants.
With UpMenu, you have the option to construct a catering company website that comes equipped with an integrated online ordering feature. All you need to do is set up and customize your restaurant website, input your catering service menu, and activate online ordering for your customers right from your website.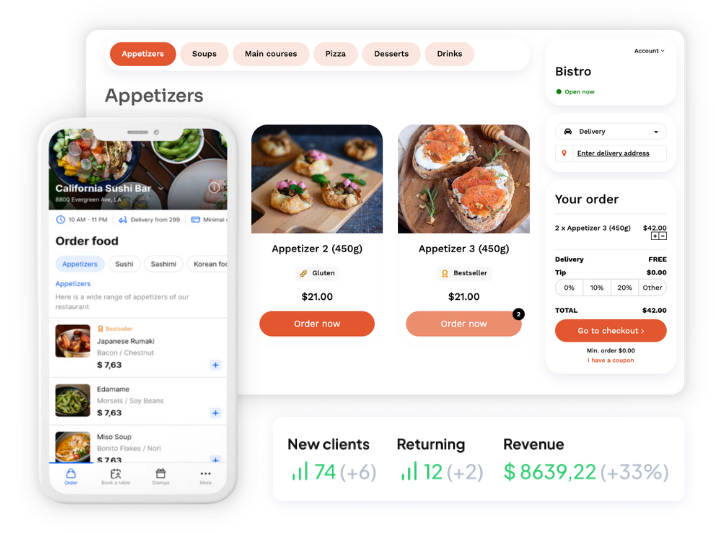 Start selling food online
Set up commission-free ordering for your restaurant's website in minutes. Boost revenue while saving on third-party fees
Regarding the catering company's digital presence, it's essential to consider including a restaurant mobile app for your customers. It is a great tool that enhances customer engagement and loyalty. Customers can easily use the catering company's mobile app to place online orders.
Mobile applications can boost revenue by leveraging in-app promotions, upselling opportunities, and cross-selling strategies. Additionally, they effectively foster larger group orders, particularly for corporate catering.
As the owner of a catering services company, you can utilize an app builder to craft and customize the app for your catering company.
Personalize your food ordering app by integrating your logo, crafting the layout, selecting colors and icons, inputting your menu items, connecting it to your website, and including contact details. This ensures that your app harmonizes seamlessly with your restaurant's distinctive style.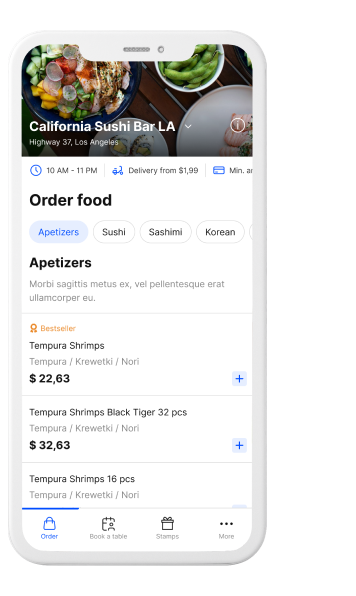 Create a mobile app for your restaurant
Boost customer loyalty with native iOS and Android ordering apps that put your restaurant right in your customer's pocket
Step 4. Test it Out
Trying out a new name for your catering business is important to ensure it works well. One good way to do this is to tell a small group of potential customers, friends, or family members your ideas for the name and see what they think.
Ask them to share their thoughts openly about the names, paying attention to whether the name is clear, attractive, and fits well with your catering business idea. Ask for their opinions on the catering company name ideas:
Is the name straightforward and easy to grasp?
Does it sound inviting?
Does it align with the catering business concept?
Their feedback can be immensely valuable in assessing the initial response to the names and their alignment with your target audience. It also enables you to identify potential issues, such as names that may be challenging to pronounce or fail to convey the intended ambiance.
By asking for other people's opinions, you can improve your catering business name and ensure it shows what your catering company is about and attracts the people you want to come in.
Step 5. Make Your Choice
After thorough consideration and gathering feedback, select the catering company name that aligns with your catering business's identity, resonates with your intended customers, and encapsulates what makes your establishment unique.
Once you've settled on a catering company name, make it official by registering it as your business name, domain name, and name on social media channels. This step helps protect your brand identity and ensures consistency across your online presence.
Choosing the perfect catering service name is crucial in building your catering company's brand.
This decision can also differentiate your catering co from competitors in the catering services industry.
100+ Catchy Catering Names Ideas
If you're just looking for inspiration, you will find some catchy and creative catering company name ideas below.
Wedding Caterers Business Names
Starry Matrimony Catering
Upper Crust Catering Company
Taste Catering Services
Aspects Catering
Woodhaven Manor Caterers
Creative Wedding Catering
Favorite Dish Catering Company
Luxury Party Catering Chef
Five-Star Catering Service
Co Affordable Catering Services
Catering Food Celebrations
Food Catering Weddings
Catering Company Banquet Maids
Amici Catering Company
Delicate Dishes Catering Services
Catering Company Cater
Catering Businesses Unveiled
Hot Cocoa Catering Cater
Royal Treat Catering Services
Catering Angels' Blessings
American Catering Service
Baskets Catering Celebrations
Desserts Catering Dreams
Catering Services Comfort Food
Feather Catering Service Taste
Unique Catering Company Names
Star Creative Catering
Upper Crust Culinary Creations
Taste Innovations Catering
Aspects of Creative Cuisine
Woodhaven Creative Catering
Favorite Dish Catering Ventures
Luxury Party Culinary Chef
Five-Star Culinary Excellence
Co Affordable Culinary Services
Catering Food Adventures
Food Catering Creativity
Catering Company Banquet Maids
Amici Culinary Crafters
Delicate Dishes Culinary Delights
Catering Company of Culinary Art
Hot Cocoa Culinary Treats
Royal Treat Culinary Experience
Catering Angels' Culinary Bliss
American Culinary Service
Baskets of Culinary Delights
Desserts Culinary Creations
Catering Services of Comfort Food
Feathered Culinary Delights
Taste Culinary Creative Ventures
Creative Culinary Business
Classy Catering Service Names
Starry Classy Catering
Upper Crust Catering Excellence
Taste of Class Catering
Aspects of Classy Dining
Woodhaven Classy Caterers
Creative Classy Cuisine
Favorite Dish Classy Catering
Luxury Party Classy Chef
Five-Star Classy Service
Co Affordable Classy Catering
Banquet Maids Classy Affairs
Amici Classy Catering
Delicate Dining Classiness
Catering Company of Class
Hot Cocoa Classy Culinary
Royal Treat Classy Service
Angels of Classy Catering
American Classic Caterers
Baskets of Classy Cuisine
Desserts Classy Creations
Comfort in Classy Catering
Feathered Elegance Classy Service
Happy Classy Catering
French Kiss Classy Dining
Nextbuy Classy Catering
Buffet Style Catering Name Ideas
Buffet Banquets
Upper Crust Buffet Bliss
Taste of Buffet Excellence
Aspects of Buffet Delights
Woodhaven Buffet Feast
Creative Buffet Bites
Favorite Dish Buffet Bonanza
Luxury Party Buffet Extravaganza
Five-Star Buffet Service
Co Affordable Buffet Catering
Catering Food Buffet Feast
Food Catering Buffet Style
Banquet Maids Buffet Affairs
Amici Buffet Catering
Delicate Dishes Buffet Creations
Catering Company of Buffet
Hot Cocoa Buffet Catering
Catering Service Royal Treat
Angels of Buffet Delights
American Buffet Service
Baskets of Buffet Delights
Desserts Buffet Bonanza
Comfort Buffet Catering
Feathered Buffet Service
Happy Buffet Moments
Fun Catering Company Names Ideas
Laughing Platters Caterers
Belly Laughs Banquets
Tickle Your Taste Buds Catering
Bites and Giggles Catering
Ha-Ha Hors d'Oeuvres
Chuckles & Chow Catering
Whimsical Tastes Caterers
Comic Cuisine Creations
Sidesplitter Suppers
Gastronomic Guffaws
Comedy Cooks Catering
Jokester's Jamboree Catering
Amuse-Bouche Buffets
Funny Flavors Feast
Hilarious Eats Express
Grin and Gourmet Catering
Foodie Funnymakers
Quirk & Quiche Catering
Bellyache Banquets
Catering Capers & Chuckles
Funny Food Fanatics
Belly Busters Banquets
Comical Cuisine Concoctions
Whacky Nosh Catering
Humor on a Plate Catering
Cute Catering Service Names Ideas
Adorable Appetites Catering
Sweetheart Spreads Catering
Catering Cuties
Charming Chow Caterers
Darling Dishes Delights
Whisked Away Catering
Precious Platters Catering
Sugar & Spice Soirees
Tasty Tidbits Catering
Petite Platefuls Catering
Catering Charmers
Tiny Bites & Delights
The Catering Cupids
Cuteness Cuisine
Little Gourmet Gatherings
Mini Morsels Catering
Aww-Inspiring Appetizers
Cherub Chefs Catering
Dainty Dining Delights
Sweet Satisfaction Caterers
Heartfelt Feasts Catering
Delightful Dinnerscapes
Bite-Size Bliss Catering
Tiny Temptations Caterers
Simply Sweet Catering
Key Takeaways
Ensure that your catering service business name reflects your niche or specialty. Whether it's wedding catering, corporate events, or a specific cuisine, your name should convey your expertise.
Choose a name that is easy to remember. Catchy, short, and unique names tend to leave a lasting impression on potential clients.
Tailor your name to your target audience. A more professional-sounding name may be suitable if you primarily serve corporate clients, whereas a fun and creative name might be better for social events.
Steer clear of cliches and overused catering terms like "Gourmet" or "Delicious." Instead, aim for a name that stands out and sets you apart.
Before finalizing a name, check if the domain name is available for a website and if the name is available on social media platforms. Consistency in branding is essential.
Be sure to perform a trademark search to ensure that another business doesn't already trademark the name you choose in the same industry. This can help you avoid legal issues down the road.
Frequently Asked Questions (FAQ)