In the highly competitive world of catering, capturing the attention of potential customers and standing out from the crowd is paramount to success. The key lies in employing innovative and effective catering marketing ideas that entice clients and leave a lasting impression. From unique restaurant social media marketing campaigns to discounts and partnerships with local businesses, this article explores the 15 best catering promotion ideas that will captivate audiences and foster long-lasting relationships with customers. With these strategies in place, catering businesses can elevate their brand presence and ultimately achieve growth in a dynamic and thriving catering industry.
What is a catering business?
A catering business is a service-oriented enterprise that provides food and beverage offerings for various events and occasions. From weddings and corporate gatherings to parties and conferences, catering companies prepare, deliver, and serve delectable dishes that cater to their client's unique preferences and requirements. With a keen focus on customization and attention to detail, these businesses aim to create memorable dining experiences that leave a lasting impression on event attendees.
We strongly recommend preparing a catering business plan to start a catering company. Whether you are to run a small catering business or a large company, it should be a starting point. Creating a marketing strategy and crafting a catering marketing plan is a part of developing a comprehensive formal business plan for any business.
Below we will explore the 15 best catering marketing ideas that will help you attract more customers.
1. Develop an impressive catering website
You could start by creating a professional website for your catering business to showcase your catering business and build a strong online presence. For that purpose, you can use a restaurant website builder. This intuitive tool allows you to select one of the ready-to-be-used professional restaurant website templates, customize it by your preferences, and add your photos, content, and menu.
Your catering website will help you build brand recognition among your target customers and enhance your digital marketing efforts. Check these articles to find out more about how to create a restaurant website and what are the best catering websites & designs.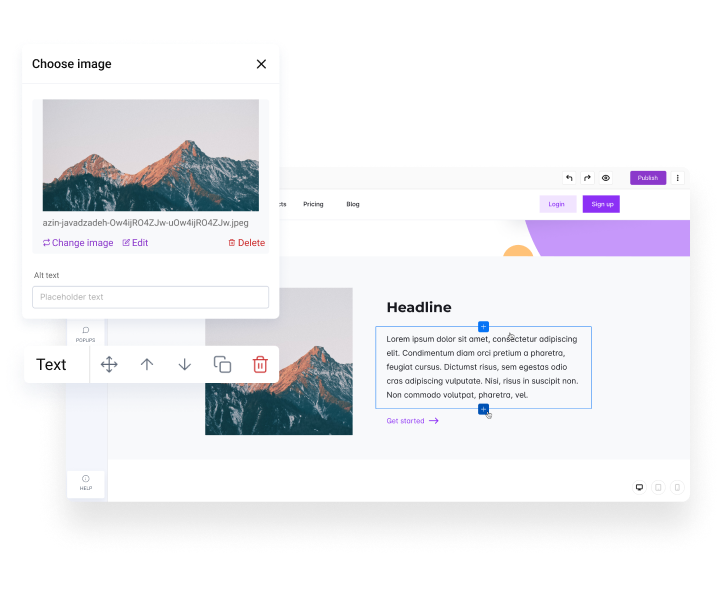 Restaurant Website Builder
Your own branded restaurant
website in minutes
Get a beautifully designed website that converts online visitors into customers and keep them coming back.
2. Ensure your website is mobile-optimized
According to Statista, in the first quarter of 2023, mobile devices, excluding tablets, accounted for a remarkable 58.33 percent of global website traffic. Considering this fact, ensuring your catering website is mobile-friendly for seamless mobile use is crucial. It is highly probable that your target audience looking for a catering company uses their mobile phones for research purposes.
3. Launch an online ordering system on your website
One of the elements of a catering marketing strategy is enabling online ordering for customers directly through your catering company website. You can integrate ecommerce directly into your website thanks to using a solution that provides you with tools to launch an online ordering system.
In UpMenu, you can activate an online ordering system in just a few minutes. You start by registering with UpMenu. Then add your menu items, draw your delivery zones, add contact information, and launch online ordering on your website.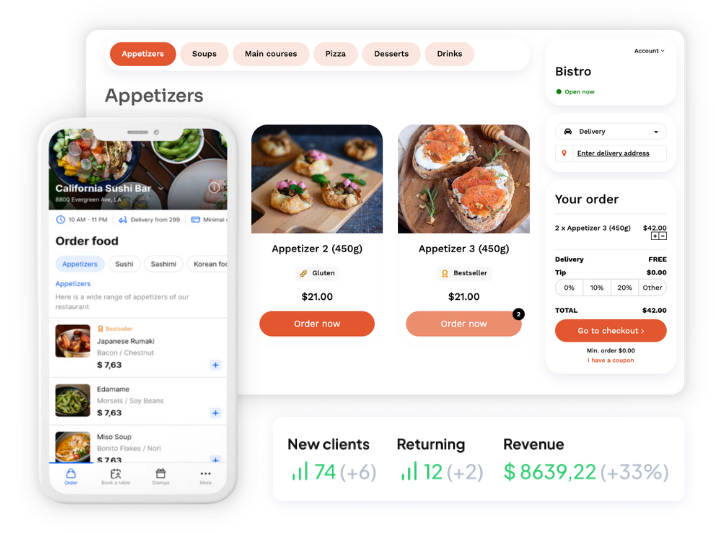 Your own branded online
ordering in 5 minutes
Launch commission-free online ordering on your own website in 5 minutes and grow your revenue, build loyalty and protect margin from third-party aggregators.
4. Create a comprehensive business plan
No matter what type of business you plan to run and its marketing strategy, you should start by creating a detailed business plan. It is a document in which you note all information relevant to starting your business, including ideas for your catering (for example, you plan to run a wedding catering), catering marketing plan and marketing budget, the analysis of other local businesses that offer catering services, and more.
To learn more about creating a catering business plan, check this article with a ready-to-be-used business plan template.
5. Unleash the potential of digital marketing
Utilize digital or internet marketing to draw in website traffic, spark conversations about your catering business, and expand your reach. Consider the following:
Build your online presence on social media platforms like Instagram and Facebook. Social media marketing is a powerful digital marketing form that enables you to engage with potential and existing customers and drive traffic to your website. Post on your social media about your catering brand and your offer
Use email marketing to encourage clients to order your products
Use search engine optimization (SEO) to boost your online visibility and reach for the specific keywords you're targeting
Utilize paid advertising, for example, Google Ads and/or Facebook Ads, for greater brand exposure among your target audience
List your catering business on appropriate online catering directories to broaden its online visibility and attract potential customers
6. Utilize customer testimonials and reviews
One highly recommended catering marketing idea is to use your customer reviews. You can share customer feedback on your website, social media platforms, and marketing materials. It will help you to build trust, credibility, and a positive reputation.
You can use a restaurant feedback system to collect feedback in real-time. Thanks to that, you can react to customer opinions and improve customer satisfaction.
7. Invest in professional food photography
High-quality professional photos can drive traffic to your website and attract new customers to use your catering company services. Observe the industry trends to provide well-composed images that show your products and services in the best possible way. Check out our food photography tips to create stunning images on your own.
8. Style your food presentations
The next catering marketing strategy is to style food for visual appeal. While styling your dishes for a catering event, start with the theme and colors. Think about the atmosphere you want to create and use appropriate garnishes to highlight it.
Consider the mood and emotion you wish to express, and ensure that your food presentation mirrors this sentiment. Bear in mind that crafting the perfect food styling for catering events is an artistic endeavor that requires dedication and experience to excel in. You can also hire a food stylist to help you with that.
9. Understand your target market
A fundamental marketing strategy is understanding your target market and competition to tailor your services. What services do you provide? Who is your target customer?
Spend some time conducting market research and analyzing the competition in your surrounding. What do they offer? What can be your value proposition? Do you have a competitive advantage over them?
Remember that it's crucial to understand your market to create and implement a catering marketing plan, increase brand recognition, and attract new customers to your business.
10. Create a loyalty program
Another catering marketing strategy is to create a loyalty program to appreciate repeat customers who return for your services. Provide enticing rewards such as discounts, complimentary menu items, promotions, or other appealing incentives to encourage their continued patronage. This strategy proves particularly beneficial for drop-off and corporate catering services.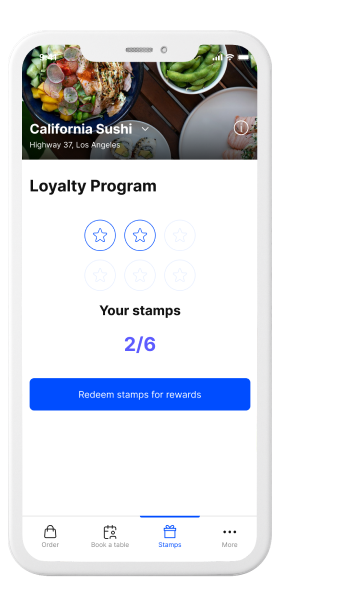 Customers who join the loyalty program often return and spend more
Get up and running quickly with our easy-to-implement loyalty program.
11. Brand your delivery van
Enhance your brand visibility locally with this straightforward yet highly impactful catering marketing idea. Branding your delivery van holds significant importance for several reasons, including the following:
It increases your visibility, your branded delivery van acts as a moving billboard for your catering business and attracts attention wherever it goes
It helps reinforce brand recognition
It helps to build a professional image of your business, giving a sense of professionalism and reliability
A branded van adds credibility to your business
An eye-catching and unforgettable van design can ignite conversations and generate word-of-mouth referrals. Delighted customers, eager to share their positive experiences, can introduce your catering services to friends and family, opening the door to new and promising business opportunities.
A branded van sets you apart from competitors who may have plain or unbranded vehicles
It is a cost-effective advertising method compared to traditional advertising methods. After covering the initial branding cost, the continuous exposure comes with no additional expenses.
12. Create a blog
Starting a blog for your catering business is a great way to showcase your culinary expertise, share exciting recipes, and offer valuable tips to your audience. Your excellent food blog will bring in new clients, make your brand recognizable and famous, and add some spice to the catering scene!
13. Participate as an exhibitor in trade shows
Catering business owners participate in trade shows to showcase their catering business. Consider becoming an exhibitor and also participate in these events, as it can help you display your products and services to a big crowd of potential customers quickly, boosting your business's visibility and reach while generating fresh leads and sales.
Moreover, trade shows facilitate networking with other businesses, industry experts, and suppliers, enabling you to build valuable relationships, stay updated on the latest restaurant industry trends and technologies, and remain in the loop about industry advancements. It's an all-around opportunity to grow your business and stay competitive!
14. Create press releases and QR codes
Spread the news effectively with press releases. Use food blogs, magazines, bridal journals, local newspapers, etc., to inform the locals about your latest products, launches, and exciting milestones.
You can also create QR codes and print them on your leaflets. Such a QR code can be scanned with a mobile device, and potential clients are redirected to your online ordering website.
15. Enhance your shop front
One of the marketing strategies is to enhance your shop front to attract potential customers if you have a physical catering business location. Make attention-grabbing signs that showcase your business brand and inform passersby about your offerings. Display your signage and menus on the windows.
Utilize high-quality images and videos to exhibit your food and top-notch services, and don't forget to update the display regularly to keep it engaging and fresh. Maximize your shop front to highlight special promotions and events.
Key Takeaways
Remember about your digital business presence. Create a mobile-optimized restaurant website with an online ordering system to attract customers and let them order online your catering services
Catering businesses can boost their brand visibility and attract potential clients effectively by implementing targeted online advertising and engaging in social media campaigns
Catering marketing strategies captivate audiences and nurture enduring customer relationships.
The power of appealing, professional photos and expertly styled presentations cannot be underestimated, as they create cravings and generate significant interest in the catering services offered.
In addition to digital efforts, traditional marketing avenues like press releases, pamphlets, and QR codes still hold value, particularly in capturing local customers and reinforcing the brand's presence
Establishing connections through networking at industry events and becoming an exhibitor at trade shows can open doors to valuable collaborations, partnerships, and new opportunities.
Leveraging positive customer testimonials and online reviews is essential for building trust and credibility
Frequently Asked Questions (FAQ)
Catering marketing involves the implementation of various marketing strategies and catering marketing ideas to promote catering services and attract potential clients. These strategies may include creating a professional website, utilizing social media platforms to showcase menus and events, optimizing online visibility through SEO, leveraging customer testimonials, and engaging in networking events to connect with potential customers and industry peers.
Catering marketing aims to establish a strong brand identity, communicate the unique value of catering services, and generate increased inquiries and bookings for business growth and success.
The 4Ps of marketing in catering are
Product (services and menu offerings),

Price (pricing strategy),

Place (distribution channels and locations),

Promotion (marketing efforts).
These elements are crucial for creating a successful marketing strategy and attracting customers to the catering business.
To effectively brand your catering business and attract new customers while building brand loyalty, consider implementing the following catering marketing ideas
Develop a unique brand name, logo, and brand story that reflects your catering business's values and offerings.

Use print advertising, such as brochures, flyers, and business cards, showcasing your brand identity and services

Offer special promotions

Highlight positive customer testimonials

Organize tasting events for potential clients

Partner with local businesses

Advertise in local food or lifestyle magazines

Utilize direct mail campaigns

Use social media channels