Are you passionate about traditional Japanese cuisine and looking to embark on an exciting culinary venture? Opening a Japanese restaurant that caters to sushi lovers and enthusiasts of Japanese food is a fantastic idea. However, one of the critical elements to consider when starting such an establishment is choosing the perfect Japanese restaurant name. Your restaurant's name represents your brand and sets the tone for the dining experience.
In this article, we'll delve into the world of Japanese restaurant names, offering you over 100 creative and enticing Japanese restaurant name ideas. Whether you're planning to launch a cozy neighborhood sushi joint or an elegant traditional Japanese eatery, our list will help you find inspiration and guidance for selecting a name that resonates with your vision.
So, let's dive in and discover the perfect name for your Japanese restaurant that will leave sushi restaurants and ramen shop lovers eagerly anticipating their next visit.
How to Select the Japanese Restaurant Name?
We created this step-by-step guide on generating Japanese restaurant names and choosing your sushi bar name to help you choose a name that captures the essence of your culinary masterpiece.
Step 1. Decide on a Japanese restaurant's identity
Defining a Japanese restaurant's identity is pivotal in establishing a unique and appealing dining experience. Begin by pinpointing the style of Japanese cuisine you'll serve, whether centered around raw fish delicacies like sushi and sashimi or a fusion of flavors inspired by Japanese culinary traditions. Your choice of Japanese restaurant names should reflect this identity, offering a glimpse of the delicious food patrons can expect.
Think about your target audience and decide who you will cater to – sushi lovers, families, or those seeking an upscale dining experience.
Consider how the interior design, ambiance, and music will connect diners with Japanese culture, immersing them in an authentic and delightful experience. It's crucial to cater to your target audience's preferences.
Ultimately, a well-defined identity helps set your Japanese restaurant apart from other competitive Japanese restaurants and gives customers a clear sense of what to expect when they walk through your doors.
Step 2. Think of Japanese restaurant name ideas
Once you have decided on your Japanese restaurant identity, it's time to choose the right sushi restaurant name. For that purpose, spend some time brainstorming unique and appealing names. How to do this? Here are some suggestions.
Make a list of keywords
The first could be preparing a list of keywords inspired by Japanese culture, cuisine, and ambiance. The examples of terms you could use to describe your restaurant could be
Ramen,
Japanese,
Prawn,
Crispy,
Japanese,
Sushi
Tempura,
Rolls,
Kinza,
Udon,
Octopus
Noodles,
Rice
Once you do this, you can try to create the combinations of terms you noted, for example:
Ramen House
Japanese Word,
Ramen Sushi,
Crispy Prawn,
Sushi Momo,
Sushi Rolls,
Udon Noodles,
Octopus Balls,
Japanese Sushi
If your restaurant is situated in a particular place or has a unique setting, you can integrate that aspect into the restaurant's name, for example, Pacific Coast Rolls & Sushi – inspired by the stunning West Coast or Big Apple Sushi Bar – a nod to the vibrant New York City.
Also, consider incorporating Japanese cultural allusions, such as renowned landmarks, historical figures, or traditional elements, and Japanese words into your restaurant's name.
Finally, when choosing a name for your Japanese restaurant, try not to use overly complicated or long names. Simple names are easier for people to understand and remember.
If you're struggling with creative Japanese restaurant name ideas, use a restaurant name ideas generator like Restaurant Name Generator.
Step 3. Check if the name is available
Before selecting the name for your Japanese restaurant or sushi bar, make sure that the given name is not already used by another sushi making restaurant. Check the following sources to see if a given name is already used:
Make a Google Search: Start by performing a Google search for your potential Japanese restaurant names.
Browse local directories: Examine local directories (Yellow Pages, Google Maps, and Yelp) to verify if any businesses in your area with the same or similar restaurant names exist.
Check the listings on Google My Business: Inspect Google My Business listings to check if nearby businesses have already registered the names you're contemplating.
Verify the Better Business Bureau (BBB) Directory: You can also check the Better Business Bureau directory to verify if any registered Japanese restaurants share the same or similar name.
Examine the United States Patent and Trademark Office's Trademark database: If you are based in the United States, use the USPTO trademark database search to ensure that no other business has already trademarked your chosen Japanese cuisine name. This is a crucial step to avoid potential legal issues in the future.
Securing a matching domain name is essential for establishing your online presence in today's digital age. Verifying that the desired domain is available and not already registered for your chosen name is important. This step is crucial for building your online brand effectively.
You can use a free restaurant website builder to build your Japanese restaurant website. Firstly, you choose one of the available Japanese website templates, then you add your content and restaurant menu with attractive photos of dishes.
You can customize the template by adding or removing subpages and changing colors to tailor it to your restaurant's brand.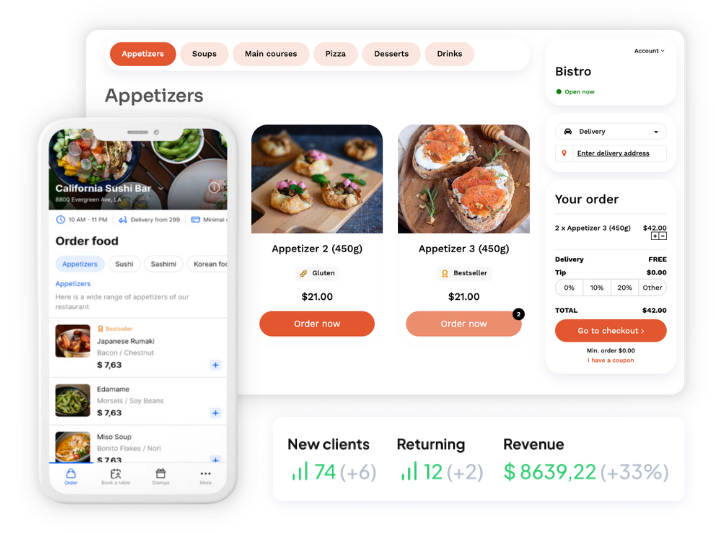 Start selling food online
Set up commission-free ordering for your restaurant's website in minutes. Boost revenue while saving on third-party fees
While building a sushi restaurant website, don't forget about providing your potential customers with the option to order your Japanese food online. Some website builders, like the one created by UpMenu, have an online ordering system for restaurants that enables customers to order directly from a restaurant website.
When it comes to your Japanese restaurant's online presence, it's important to explore the possibility of creating a restaurant mobile app for your customers.
A restaurant mobile app can be a valuable tool for boosting customer engagement and fostering loyalty. Through the app, customers can conveniently place online orders with your restaurant.
You can customize your Japanese food ordering app by adding your restaurant logo, choosing colors, and adding icons and Japanese cuisine menu items. Thanks to that, the app will reflect your restaurant's brand and style.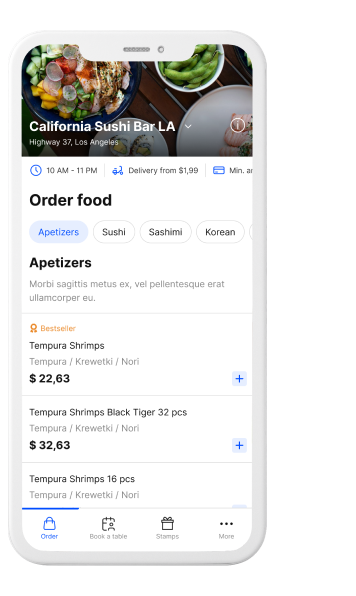 Create a mobile app for your restaurant
Boost customer loyalty with native iOS and Android ordering apps that put your restaurant right in your customer's pocket
Step 4. Try it out
Trying out a new name for your Japanese restaurant is like a taste test.
Start by sharing the name with a small group of people you trust, like friends or family. Ask them what they think, how it makes them feel, and if it fits the restaurant's style.
You can also do surveys or polls online to get more opinions. This helps you choose a name that matches your vision and resonates with potential customers.
Step 5. Pick the best name
Choosing the right name for your Japanese restaurant is like selecting the best ingredients for a recipe. It should represent what your restaurant is about and be easy for people to remember.
Taking into account the previous steps you followed, take your time to think about the name that fits your vision and stands out from the rest to make the final decision.
100+ Good Japanese & Sushi Restaurant Names Ideas
If you are just looking for inspiration, below you will find examples of ideas for Japanese restaurants names.
Creative Japanese Restaurant Names
Sakura Savor
Nihon Nectar
Umami Utopia
Sushi Symphony
Zen Zenith
Tokyo Treasures
Mizu Mirage
Kyoto Cuisine
Sake & Sashimi
Bonsai Bites
Geisha's Grille
Wasabi Whispers
Tsuki Terrace
Sushi Samurai
Tempura Temptations
Kabuki Kitchen
Jade Garden Sushi
Udon Universe
Fuji Fusion Flavors
Sumo Supreme
Hanami Haven
Sushi Surf Shack
Dragon Roll Delights
Mochi Moonlight
Ramen Rendezvous
Sushi Serenity
Kimono Kitchen
Sashimi Sensations
Origami Oasis
Umi's Elegance
Funny Japanese Restaurant Name Ideas
Wasa-bee!
Sushi-licious Shenanigans
Soy Joy Palace
Rollin' with Rice
Tempura Tantrum
Ramen Rebels
The Sushi Samurai Showdown
Sashimi Shenanigans
Noodle Nonsense
Wasabi Wonders
The Miso Marvel
Sushi Slapstick
Ramen Ruckus
Sake Shake-Up
Sushi Smiles
Soy Sauce Surprises
Teriyaki Tickles
Udon Uproar
Kimono Comedy Kitchen
The Sushi Stand-Up
Chopsticks Comedy Club
Bento Box Banter
The Sushi Sillies
Tempura Tidbits
Rice Roll Riot
Wonton Whimsy
Miso Hilarity
The Sushi Spin
Noodle Nonsensicals
Teriyaki Tidings
Japanese Restaurant Names Based on Places
Tokyo Taste Oasis
Kyoto Cuisine Corner
Osaka Harbor Grill
Hokkaido Hideaway
Hiroshima Hibachi Haven
Nagasaki Noodle Nook
Mount Fuji Flavors
Okinawa Ocean Eats
Kobe Steakhouse Cove
Sapporo Sushi Summit
Fukuoka Foodie Finds
Yokohama Yuzu Yard
Sendai Savor Square
Kamakura Kaiseki Kingdom
Nikko Nigiri Nook
Kyoto Kimono Kitchen
Hiroshima Harbor House
Kobe Kobe Bistro
Nagoya Noodle Niche
Nara Nosh Nook
Osaka Oishii Oasis
Hiroshima Hiro Sushi
Sapporo Sushi Station
Okinawa Oishii Outpost
Kyoto Kaiseki Kingdom
Mount Fuji Fusion
Fukuoka Foodie Fables
Yokohama Yuzu Yard
Nagano Noodle Nosh
Osaka Ocean Odyssey
Unique Japanese Restaurant Names
Kaiseki Whispers
Sakura Breeze Dining
Bamboo Garden Izakaya
Miso Melodies
Fuji Flavors
Kimono Kitchen Chronicles
Umami Delights
Geisha's Grub House
Zen Zenith Sushi
Sapporo Serenade
Hanami Noodle House
Wasabi Wonders
Sushi Surf Shack
Tsuki Terrace
Udon Universe
Jade Garden Sushi
Samurai Bites
Dragon Roll Dreams
Sumo Suppers
Tempura Tales
Umi's Elegance
Shogun's Supper Club
Nihon Noshery
Ramen Rendezvous
Sashimi Splendors
Sushi Soirée
Origami Oasis
Kyoto Komfort
Tokyo Treasures
Bonsai Bites
Key Takeaways
Ensure that your restaurant's name harmonizes with your chosen concept and style, whether rooted in traditional Japanese cuisine, delicious sushi, or a fusion of flavors.
Choose a name that's easy to remember and pronounce. Avoid overly intricate or lengthy names.
Consider weaving elements of Japanese culture into your name, such as landmarks, historical figures, or traditional symbols. This adds richness and authenticity to your restaurant's identity.
Keep your target audience in mind while picking a name. Ensure it resonates with the tastes and expectations of the clientele you wish to attract.
Before settling on a name, confirm its availability as a domain name and on social media platforms. Additionally, conduct a trademark search to sidestep potential legal complications.
Envision how your chosen name will look as a logo or on signage. A visually appealing and harmonious name can elevate your restaurant's overall branding.
Remember that your Japanese restaurant's name plays a pivotal role in your brand identity, serving as the first impression for potential diners. Your Japanese restaurant name needs to give a summary of the essence of your culinary offerings and ambiance, at the same time remaining memorable and inviting.
Frequently Asked Questions (FAQ)
Good Japanese restaurant names often reflect the cuisine's elegance, culture, and delicious offerings. Here are some Japanese restaurant name ideas that encompass these qualities:
Sakura Sushi & Grill: "Sakura" evokes cherry blossoms, symbolizing Japan's beauty.

Umami Delights: "Umami" highlights the savory essence of Japanese cuisine.

Zen Zenith Dining: "Zen" represents tranquility and balance.

Tokyo Temptations: A nod to Japan's vibrant capital city.

Sushi Serenade: A name that suggests an enjoyable dining experience.
Identifying the absolute "best" Japanese restaurant name is a deeply personal choice, shaped by your restaurant's individual concept, its locale, and the specific clientele you aim to attract.
The paramount name for your Japanese restaurant should seamlessly harmonize with your distinctive vision, strike a chord with your valued patrons, and etch itself into their memory. It must encapsulate the soul of your cuisine and the ambiance, standing out as a beacon amidst the culinary landscape.
Ultimately, the finest name is the one that leaves an indelible, positive impression, both for you and the cherished diners you serve.
To come up with a name for your Japanese restaurant:
Begin by clarifying your restaurant's concept, whether it leans towards traditional, sushi-centric, or fusion cuisine.

Engage in creative brainstorming, exploring elements tied to Japanese culture, cuisine, and the restaurant's atmosphere.

Combine these ideas inventively to shape distinct and memorable name options.

Keep your prospective customers in mind, ensuring the chosen name resonates with their tastes and expectations.

Prioritize the availability of the name as a domain and on social media platforms while conducting a trademark search to avert potential legal complications.