You might wonder if sushi establishments need any additional knowledge on the topic: How to advertise a restaurant? Why? Everyone already loves sushi. However, the popularity of this delicacy causes huge competition among sushi restaurants.
If you are already planning your restaurant, you should remember that element that stands out from others. It could be non-standard decor, atmosphere, special promotions, way of presentation, etc.
Photos
Sushi is probably one of the most effective dishes in the world. Properly prepared sets are a brilliance of colors combined with huge aesthetics of presentation.
So take care of the appropriate presentation of your products. Organize a professional photo session. Thanks to this you will get really high-quality photos that will attract hungry guests! This is the basis of restaurant marketing strategies for sushi-serving establishments. If you want to learn how to take good pictures yourself, check out the article:
Professional food photography on your own
How to advertise a restaurant on Facebook
When creating content for your restaurant profile, remember to tell your customers what distinguishes you from the competition. With so many sushi restaurants on the market, it is very important. See: How to use the 5 formats on Facebook posts in restaurant online marketing.
Show how your chefs prepare food, and waiters preparing room to receive guests. Let everyone be sure that you are not hiding anything. Then they will trust you and will be willing to place orders. Learn more about creating valuable content from the article:
Restaurant marketing ideas and trends for 2020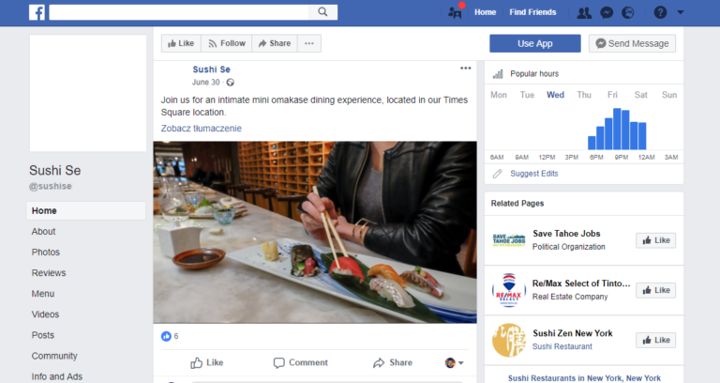 How to advertise a restaurant on Instagram
A profile of your restaurant on Instagram is a perfect way to promote sushi! On Instagram, the recipient's attention is focused primarily on photos, and sushi is great for shooting! Use this in your marketing strategy.
Remember to add appropriate hashtags to your photos, e.g. #sushi, #instasushi, #sushirestaurant. This will help you increase the number of people to whom the photo will go.
It's also a great idea to create a hashtag with the name of your restaurant. Always add it to your posts on Instagram and your customers will definitely pick it up. Then they'll start tagging photos of your restaurant and delivered food, and you'll build a community around the brand.
Online ordering
Sushi is one of the most often ordered dishes for home or office. Take advantage of it and let your customers order online! Many restaurateurs use online ordering in restaurant marketing strategies, thereby increasing their sales profits!
The UpMenu system will also allow you to advertise the establishment in completely new ways! You will use system functions such as:
automatic newsletter database building,
sending email, SMS, and PUSH campaigns,
creating loyalty programs,
advanced promotions module.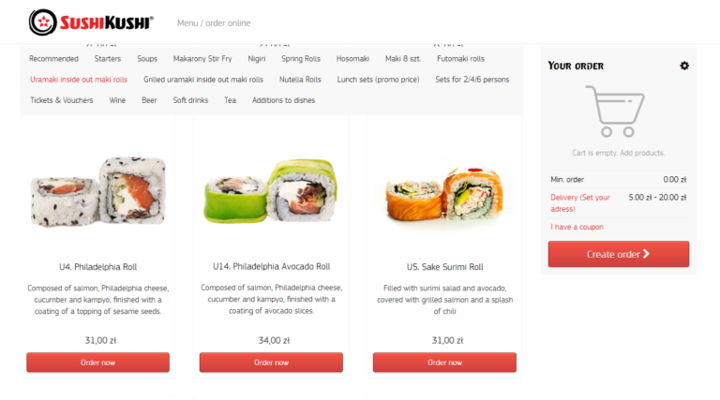 Find out more about the possibilities of your sushi restaurant online ordering from the article: Advantages of online food ordering system for the restaurant and how you can increase your profits from the article: How to permanently increase restaurant sales by 20%.
Summary
When promoting a sushi restaurant, remember the element that distinguishes you from the competition. Take good-quality photos that show your product and show them to your customers in social media and on your website.
And if you want to increase sales and reduce the commission costs for food online ordering portals, please contact us. We will help you run your own online orders on your website and on a mobile application!
FAQ
What are the best sushi hashtags?
#sushi #sushitime #food #sushilovers #japanesefood #sashimi #foodie #instafood #sushilover #delivery #sushiroll #japan #sushibar #salmon #japanese #temaki #foodstagram #yummy #sushidelivery #delicious #nigiri #restaurant #foodphotography #dinner #seafood #o #sushilove #foodblogger #ramen #foodlover #tuna #lunch #sushimania #instagood #maki #love #omakase #fish #sushiman #healthyfood #foodies #sushiaddict #asianfood #sushichef #chef #tempura #sushiart #pizza #uramaki #instasushi #sake #like #fresh
How to prepare a beatiful sushi presentation?
Utilize principles of sushi plating to prepare beautiful creations with your dishes. Use fitting plates and chopsticks, place sushi rolls separately, and add additional ingredients. Sprinkle the dish with soy sauce to make it even more mouth-watering
Learn more
Online food ordering system – the ultimate 2020 guide
The 23 best restaurant website templates