Restaurant app role is growing every year as smartphone penetration in the world increases by the minute, consumers have taken an acute preference for their mobile devices – using it for almost everything, including ordering their food!
Almost 7.1 billion people will be using smartphones worldwide in 2021 – that should give you a sufficient idea of the importance of mobile apps.
Businesses, particularly restaurants, are jumping on the app bandwagon to capitalize on the ever-increasing number of smartphone users.
Whether it's an on-demand ordering app, coupon app, or a table booking app, these tools are helping restaurants experience ground-breaking order numbers and increased profitability. For example, Starbucks gets more than 24% of total transactions and a significant chunk of its revenue from its mobile app.
Customers also love using restaurant mobile apps to interact with their favorite eateries because of the user-friendliness and convenience they offer.
Many restaurants are eagerly looking for efficient online ordering software – and while mobile websites are also an option, the rise of restaurant apps makes them far more important.
If you are a restaurant owner or manager, a feature-rich mobile app offers benefits that can help you satisfy your customer base and expand your business successfully.
If you want to know more about how restaurant ordering apps have revolutionized the online ordering industry, you can read about it here!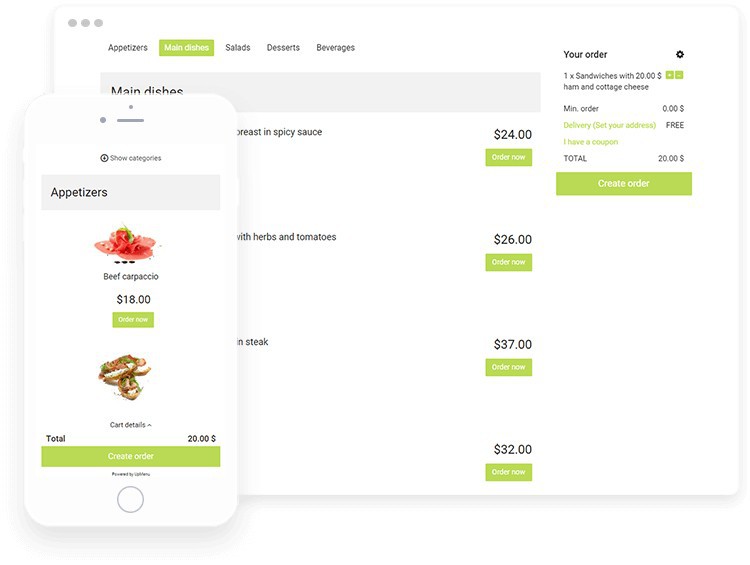 Website or a restaurant app?
70% of consumers prefer to order from a restaurant's own website or mobile app instead of a third-party app – in fact, 52% of US diners trust such websites and apps more than other portals.
So which one of them – website or the app – is more effective at driving traffic to a restaurant?
Mobile applications have become a one-stop solution for restaurants to cater to all customer needs.
A website is just one component of your overall digital presence, but an app isn't just an asset – it is an active marketing tool that can give you the ability to engage with your prospects in a more personalized way.
Here are some reasons why having an app is indispensable for modern restaurant businesses:
Applications Have A Better User Interface
Mobile applications are more intuitive as compared to websites –giving customers the ability to pick their favorite items from a menu and place an order with the restaurant in just a few steps.
They can not only save time but also find relevant offers, apply coupon codes and give special instructions to the restaurants.
Apps are relatively more straightforward than order forms on a website which requires time to fill in and covers a lot of detail. Besides, an app removes any confusion regarding addresses and payments – and restaurants can streamline the entire order process with their app's built-in payment facilities.
Restaurant app is more functional
If you are searching for a comprehensive tool that promotes your restaurant's online presence, choose a mobile website. However, if your primary focus is to create an efficient ordering system that provides a smooth experience to your customers, develop a mobile application for your restaurant.
They are both critical, but an app can do a lot more to attract orders. Also, various other features can be added to your app as and when needed to enhance its performance.
For example, your app can have location and localization capabilities, showing your offers to prospects who are walking around within a 50-meter radius of your restaurant. It can also send put push notifications at lunch and dinner times to remind app users of your discounts and food specialties.
A website wouldn't be capable of those functionalities – with an app you can eliminate the decision-making process for your users just when they are hungry and looking for a place to eat or order.
Restaurant apps can cost a lot less than a website
The developers at UpMenu have come up with a solution for all restaurants that want branded apps without breaking the bank – we can do it for a small monthly subscription fee.
This way, you can augment your online ordering system, enjoy increased sales, and avoid maintenance costs required by the application as the entire app development cost will be divided and paid on a monthly basis.
Restaurant apps present endless marketing possibilities
Updating a website with new promotional offers is a somewhat cumbersome process and even then, there is no guarantee that your prospects will get to your site on time to avail these offers.
But with a restaurant mobile app, it is easier to get the news out to your prospects – you don't even have to wait for them to come to you, deliver the deals straight to their phones where they are bound to pay attention.
While online marketing is simple for websites – its link has to be included in promotional posts, banners, etc.
Mobile apps create endless opportunities for the distribution of your marketing content, ensuring higher visibility among prospects.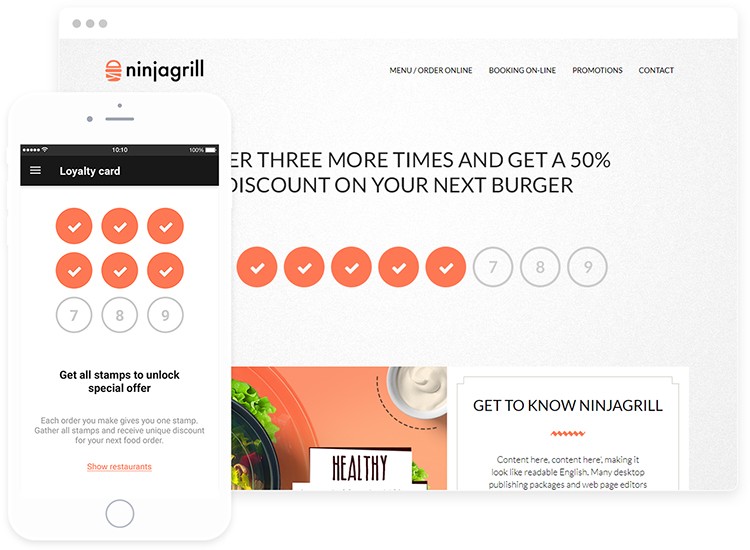 Advanced features of restaurant apps
There are three parts of a restaurant app as discussed below:
Driver panel
The driver panel should have the following features:
A separate section for all the orders and their locations so that the delivery man can be more systematic and fuel-efficient when making deliveries
An in-app notification feature to notify the driver if there is any new order from his vicinity.
Order history tab that shows payments required
A delivery notification section should also be integrated into the app, which keeps the owner informed of the exact time when all the deliveries were made. It will help the restaurant organize their workforce and keep track of the entire delivery mechanism
Admin panel
The admin panel of a restaurant app differs from the one that the customer sees – this is because it deals with the backroom services.
It has the following features:
A backup and restore function that allows the business to keep its database secure
A location management feature that informs management about real-time movements of all their delivery personnel
A message feature that updates customers about the exact time of delivery and payment required
A system that manages ad campaigns and promotions
A category management system that helps management analyze various processes of their business to improve its efficiency
A password system to safeguard the database from unauthorized personnel as it restricts access to only those that know the password
The panel should also contain information on all customers, vendors and all other business associates so that restaurants can send personalized emails for business and promotion
Restaurant panel
Expect the following functionalities:
The ability to select and update the menu according to new offers and changing demands of customers
A notification feature that sends out messages about new promotional offers, opening and closing hours, etc.
The ability to track customer order status – so restaurant owners know about orders that are taking too long to prepare so they can intervene and ensure better customer service
An operational section that helps owners analyze manpower and resources used
A messaging option where the restaurant can interact with the customers to answer their queries and concerns
Multiple payment gateways including internet banking, cash on delivery, or credit/debit card payments
Multiple language support to further facilitate clients
Loyalty program– a feature where a coupon code is generated for customers when they place an order through the application. This will encourage them to revisit the food delivery app to use that coupon.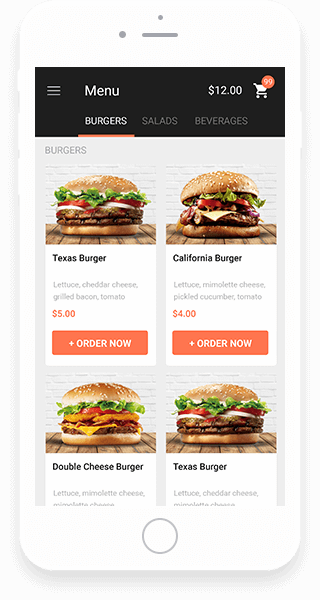 Why your businesses need a restaurant app?
Thanks to apps for restaurants, we can order food from our favorite restaurants without having to interact with anyone at any point throughout the whole process. Apps are simple, fast, and efficient, which is why customers love using them.
Take-out and delivery services are two of the fastest-growing segments of the hospitality industry – expected to make over $200 billion in sales by 2025.
And as delivery continues to grow in popularity, customers are also getting comfortable with the idea and trying out new things.
Individuals who only ordered old standbys like Chinese food and pizza are now more comfortable trying out fries, sandwiches, and burgers, etc. That's because restaurants are now spending more on packaging and delivery services to ensure that food will arrive fresh.
If your eatery doesn't have an app to facilitate online order and delivery, you might be missing out on a huge chunk of profit.
Here we've compiled a list of reasons why mobile apps have become necessary for restaurants:
Take advantage of the extensive use of mobile devices
Researchers have concluded that despite the impressive number of global mobile users, the number of smartphone consumers is only going to increase in the future.
As per a study, the amount of time U.S. adults spend on their mobile devices has increased from 88 minutes to 203 minutes a day.
Moreover, according to professional estimates, mobile traffic will increase from 11.5 Exabytes per month in 2017 to 77 Exabytes by 2022.
With such extreme usage, customers are looking for new and innovative solutions that can enhance their interactive experience – and what better way to do that than with a user-friendly restaurant app.
Make ordering more convenient for customers with restaurant mobile app
Stats show that 80% of customers go through a menu online before they get reservations – 62% are less likely to order from a restaurant if they can't see available food choices on their smartphones.
Native apps are better and faster – you can show your prospects an elegant menu and take online orders, or even help them book a table at your eatery.
Yes, with a restaurant app you can allow customers to reserve a table in advance with ease – reducing the risks related to unavailability at the last moment.
It is all quite simple – your customers are willing to pay more (in the form of delivery charges) for convenience. They'll choose to do business with restaurants that make their lives easier.
The right app for restaurants can help you be more useful for your customers, disrupt the competition, and build fierce loyalty among your clientele. Check how it helped others.
Accept online payments
Though cash is a common commodity, many people prefer using electronic cards for payment. For such customers, your food ordering app can accept online payments in several ways.
This helps improve your sales as customers do not need to give up the idea of eating at your restaurant if they do not have any cash.
With the right app, you can accept card payments and also give your customers the ability to pay via their smartphones at the counter or on-the-go before they've even visited your location.
Google Wallet, Apple Pay, and Samsung Pay are just some of the major payment options for restaurants these days – and more than 20% of all full-service restaurants are already set up to accept all three.
Make sure your restaurant doesn't get left behind.
It is a new sales channel
If your restaurant takes home delivery orders via phone calls, it requires human resources and several phone lines – there are also higher chances of errors in such a setup.
If a customer always ends up with a busy line, they'll call up another restaurant instead.
An app can be your new sales channel that is not backed up or limited because of human interaction.
Therefore, when restaurants launch their own mobile apps, they provide their customers with an uninterrupted online ordering experience – allowing them to catch up on the lost customers and revenue.
If the app is easy-to-use, up-to-date and fully functional, there is a high chance that customers will return more often, which will generate more sales.
Restaurants get to maximize their profits, whereas their guests benefit from speed and customer service when they place their orders.
Build your brand identity
Brand identity is absolutely necessary for businesses that want recurring customers.
So choose a competent app developer who can customize and personalize app for your restaurant according to brand image.
Here at UpMenu we build restaurant apps that not only suit your business but help you create a more consistent brand image across all your marketing assets. Our developers use the right colors, logos, letter marks, and brand keywords to help you build a strong brand on the internet, and also in the minds of your customers.
Our restaurant mobile apps can be used on a range of mobile devices such as the iPhone, iPad, and Android tablets – and they work with different operating systems i.e. Android and iOS, etc.
These features distinguish our app from others and increase its recognizability in the market – making it one of the best food delivery apps.
Expand your marketing horizon
With our app developing skills, your restaurant will be able to experience new marketing opportunities that will increase your revenue turnover and help strengthen the bond your business has with its customers.
It features many tools that allow you to: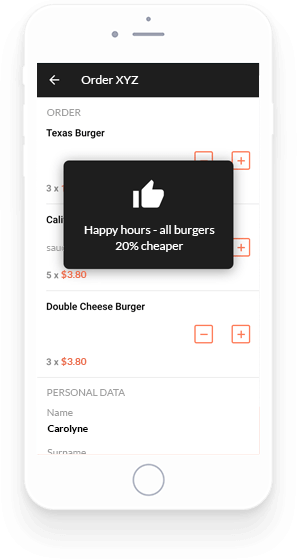 Use push notifications
These notifications enable marketers to keep in touch with customers who use the app.
Make sure your push notifications are short and snappy (less than ten words is ideal) and have a clear call to action. Your app's users won't miss out on these messages because they appear on the lock screen.
Just remember not to overdo it; otherwise, your customers may get annoyed and altogether uninstall your app. Ideally, one to two push notifications a week is good.
Deploy marketing automation
Marketers use apps to plan, manage and measure their online and offline marketing campaigns.
Restaurant apps reduce human interference and automate repetitive marketing processes – making it easier to promote loyalty programs and roll out rewards.
The UpMenu system can also send direct messages to your customers, so you can thank them for placing an online order – or you can post a reminder to those who haven't ordered in a long time.
Use in-depth report generation
Restaurant managers must always be prepared to make decisions instantly and frequently – quality, relevant data can make it a lot easier.
The UpMenu system can generate automated reports from data garnered from your app.
These reports provide in-depth information on customers engaged, total sales, menu items sold, offers availed as well as the average amount spent per consumer.
This is powerful information for a restaurant manager who wants to improve menu performance, personalize the guest experience and maximize profitability.
An app for a restaurant owner can be a command center that helps make better-informed decisions at every level of their management.
Implement loyalty programs
45% of consumers say that loyalty programs and mobile ordering facilities would encourage them to use online food ordering systems for restaurants more frequently.
Apps make your restaurant loyalty program easy to use as customers get to rack-up points and take advantage of discounts and bonuses for restaurant regulars.
UpMenu's loyalty program application allows restaurants to manage their programs appropriately by keeping track of their customers and frequent visitors. Your employees can also add points to the customer's account for meals that are ordered at the restaurant.
The right restaurant app provides a fantastic opportunity for restaurants to experience a massive jump in their sales and build a robust database of loyal foodies!
A restaurant delivery app
Some restaurants provide their customers with an online ordering facility but leave the deliveries to third-party services – many others set-up their own delivery service to save commission they would otherwise have to pay to a delivery service.
Almost one-third of Americans admit to using apps to get their food at least twice a week, making it essential for restaurants to launch their delivery services to capture that market.
Some restaurants have their own delivery fleet – this allows for flexibility in the delivery schedule to accommodate the requests of the customers. It also relieves the time constraints that businesses face with outside vendors ensuring that the food is delivered piping hot to your customer's doorstep.
However, restaurants must ensure that their delivery services are superior to what others offer. The delivery staff should be polite, approachable, well dressed and professional in all their dealings.
Make sure that the delivery is a seamless extension of the customer service you provide inside your eatery.
Take care that the delivered food is of comparable standard to what you serve in the restaurant – invest in quality packaging to ensure that all your deliveries are fresh in taste and texture.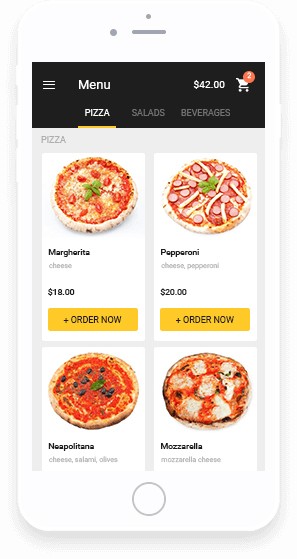 User-experience enhancing restaurant app features
When orders are placed through an online food order app, they are sent directly to the administrative panel of their UpMenu system, where they are collected with just one click, prepared, and then delivered.
Your restaurant app should provide the following services to enhance their experience:
A customer registration section to help track every individual customer's taste and preferences – this way, restaurants can offer a personalized service to them through their app
A favorites section that makes it convenient for the customers to find their preferences and reorder them
An online tracking mode to keep customers informed of the order status
The ability to link the app with social media so customers can register and log-in with credentials from their preferred social media service
A feedback section to help businesses improve their customer experience and services provided by their restaurant app
An in-app payment feature is also a must if restaurants want to target customers that live a cashless lifestyle.
A rating and review section allowing customers to show their appreciation or provide feedback – so businesses understand their shortcomings and improve the services that their customers enjoy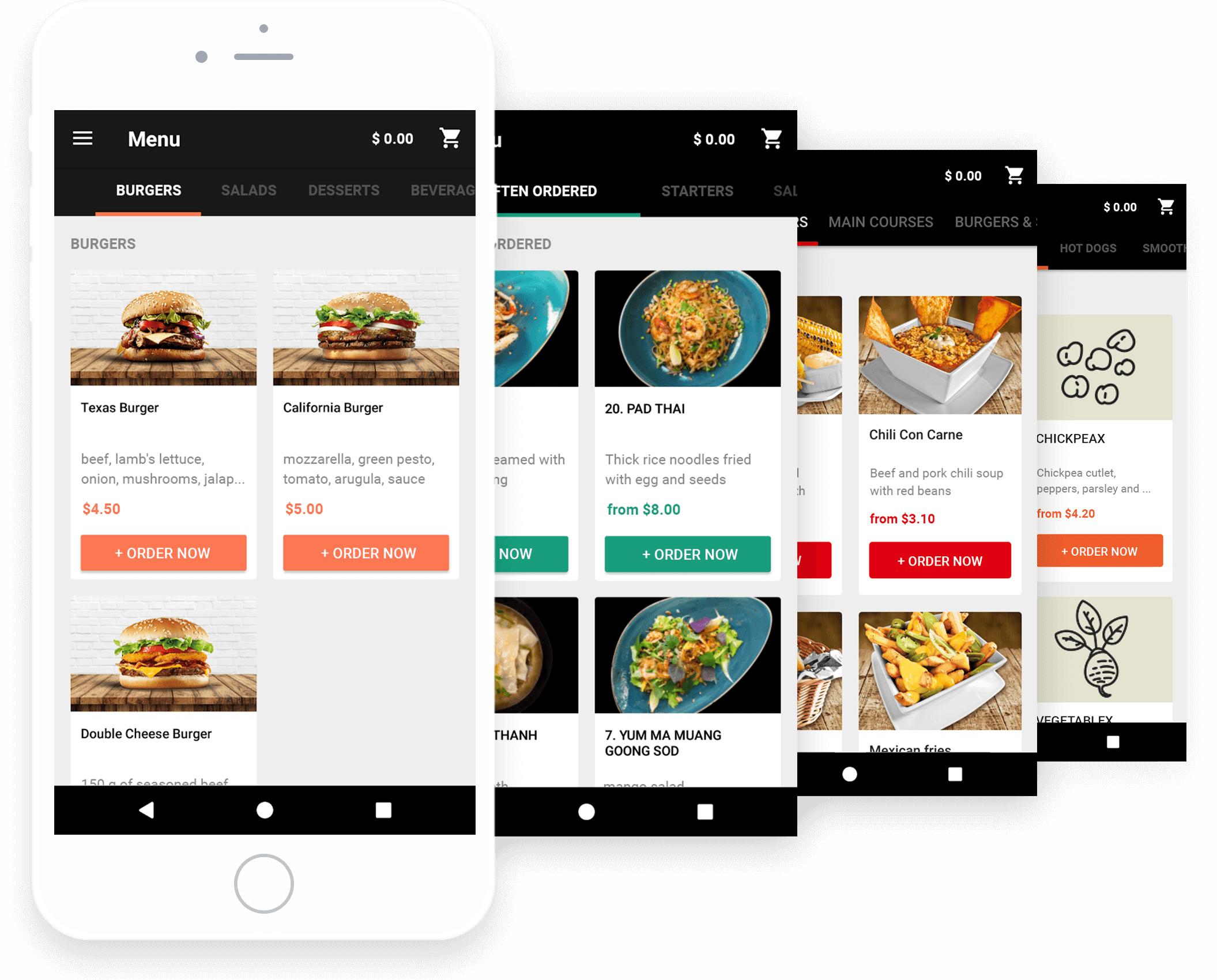 How do I create a restaurant app?
By now, we have established the fact that apps drive loyalty and spend.
Stats show that 25% of all smartphone users have at least one hotel app on their devices – so now is the right time to take a plunge into the app market and enhance the profitability of your business.
Big names in the restaurant industry have already seen phenomenal results with app development and the same opportunities are available for your business as well.
Whether you are a family-run eatery or a multi-branched chain of restaurants, if you don't have a dedicated app, you are passing up on at least a 20% growth in sales.
A consumer-facing restaurant mobile app isn't just great for taking orders online, but it is a comprehensive marketing and order management tool if used right.
So what's it going to cost you?
Well, when you work with us at UpMenu, the initial charges are less than the price of a dinner for two and we'll bundle it up with your branded logo – ensuring that your app has everything you need to ensure that your patrons send in unlimited orders.
Forget about spending thousands of dollars on apps that take forever to bring in the ROI – we make the process cost-effective and quick.
Remember, restaurant apps are unlike other business applications and have unique features and requirements to ensure customer satisfaction. Simply having an app won't guarantee that you'll get more buyers.
If you want to stay ahead of the trends, you'll need to get an app that's built specifically for your business. Only a professionally-developed restaurant app can make ordering easy and efficient.
Our apps ensure that your customers get:
A mobile-optimized menu for them to browse and select from
Quick checkout that offers them the ability to choose from cash, credit/debit card, and several other payment options
Estimated delivery time
a reward program that tracks their purchases automatically
You can get started with UpMenu straightaway– we will build a tailored application that will be bringing more customers to your establishment.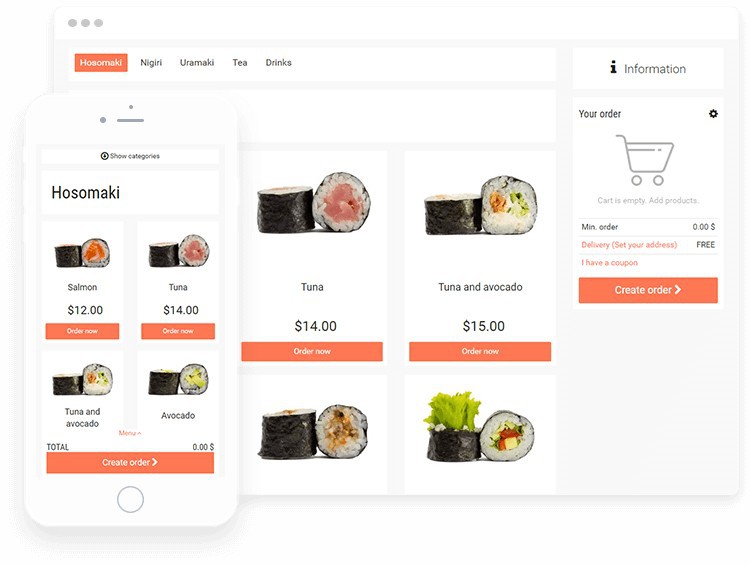 ❓ How to create an app for my restaurant?
Register UpMenu online food ordering system account

Navigate to the UpMenu homepage and register an account.

Select payment plan

Choose the most suitable payment plan for the number of orders you will proceed in your restaurant. Selecting a plan is necessary to enable mobile app creation.

Configure iOS and Android restaurant mobile app

Choose colors, menu layout and upload your restaurants brand logo to create engaging mobile app.

Order your restaurant app

Place an order for your mobile app in the UpMenu system.
We will publish it manually on Google Play and Appstore.
Enjoy your app in a matter of a few days.
FAQ
Which should you choose – website or restaurant app?
Although mobile application presents great opportunities for customer base growth, new sales channels expansion, and brand identity establishment, You should still create a website for your restaurant that will be complementary with the associated application.
Why do you need restaurant app?
A mobile application designed for your business is a great new opportunity to grow your revenue. According to statistics: in 2020 online orders' worth will triple compared to the previous year and is estimated to reach 38 billion value. That's a massive growth that you could benefit from with your own mobile application.
What are the essential features of the restaurant application by Upmenu?
– Driver panel with separate sections for orders and locations
– In-app notifications for drivers feature
– Order history tab showing required payments
– Delivery notifications keeping track of exact delivery time
– Database secured with backup and restore functions
– Location management with real-time monitoring of the delivery team
– Customer notification feature keeping your clients up-to-date with exact delivery time and payments
– Promotion engine running loyalty programs and marketing campaigns
– Consolidated consumers, vendors and business associates' database for an automated communication system purposes
– Easy to update and modify menu
– Push notification feature
– Customer order status tracking
– Operations section tracking manpower and resources in use
– Multiple payment options support
– Multi-language support
– Customer experience-enhancing features like: customer registration, a favorites section, online order tracking, social media integration, and feedback system
In conclusion
As home deliveries continue to rise, apps have become an indispensable tool for restaurants to enhance their sales and profitability.
Working with a third-party online ordering platform isn't always the best option – some of these services can charge up to a 30% fee to facilitate these deliveries.
With commission rates touching the sky, complex contracts, and a lack of access to consumer information, it's difficult for food businesses to work with such platforms.
There is only one solution – get your own restaurant mobile app and set up an in-house delivery system.
We can already see that the restaurant industry has been revolutionized with the widespread use of mobile apps that add value to the entire food buying process. Stake your claim in these new developments.
UpMenu offers a stellar app development service that not only allows restaurants to capture the market quickly but also provides additional features that can help take their services to the next level in the food industry.
Learn more
The 23 best restaurant website templates
Automated ordering system – streamline the ordering process
Multi-restaurant online ordering system that will help you earn more